Posted in
Fun Ramblings
on April 14th, 2016 by Caissa "Cami" McClinton –
41 Comments
Hello, Crochet Spot friends! I have a real treat for you today. You might be aware of Twinkie Chan from any of her many crochet activities – including her blog, YouTube channel, or seeing her patterns at Michael's or on the Lion Brand website. You may have seen her previous book, Twinkie Chan's Crochet Goodies for Fashion Foodies: 20 Yummy Treats to Wear. Or you may have seen the article I wrote about her innovative crocheted paintings. Perhaps you've run across her clothing line, Yummy You at a local boutique. Without a doubt, Twinkie Chan is a powerful force in crochet, and I've been a big fan since 2010.
All images in this post are property of Twinkie Chan and are used with permission.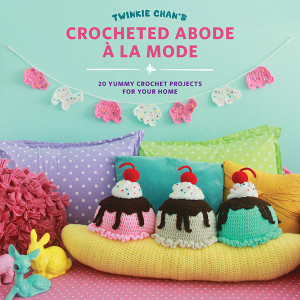 Quarto Publishing just released Twinkie's highly anticipated sophomore book,
Twinkie Chan's Crocheted Abode A La Mode ~ 20 Yummy Crochet Projects for Your Home
and it is chock-full of joyful, exuberant, delicious, crochet fun. I have been rabidly awaiting my review copy since I heard it was available for pre-order. And, we are so very lucky that the publisher is allowing me to give away not just one copy, but three!
read more »