Posted in
Free Crochet Patterns
on April 26th, 2017 by Amy –
1 Comment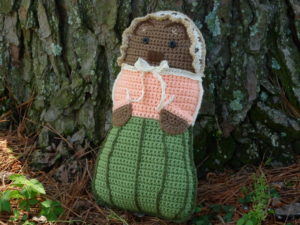 "At the table, with an iron in her hand, stood a very stout short person… Her little black nose went sniffle, sniffle, sniffle, and her eyes went twinkle, twinkle; underneath her cap — where Lucie had yellow curls — that little person had PRICKLES!"
— From Beatrix Potter's story, The Tale of Mrs. Tiggy-Winkle
Though I adore many of her other characters, I think Mrs. Tiggy-Winkle must be my favorite Beatrix Potter character of them all. She is just a simple washerwoman/hedgehog leading a simple life, and her simplicity is just what makes her adorable. However, my love of the little creatures themselves might have something to do with it.
I was so pleased with how well the Bridgette Bunny Pillow turned out that I wanted to make another vintage-inspired pillow. Lately, pillows have been a fad with me and since moving on to shaped pillows, you might say the possibilities are endless!
Mrs. Tiggy-Winkle is made up of two pillow panels with 4 separate colors. Both panels are shaped using simple increases and decreases, embellished with techniques like surface crochet and easy embroidery, and then buttons, and ribbon. My tip: stuff generously for a huggable, squeezable little woodland friend!