Posted in
Free Crochet Patterns
on July 25th, 2017 by Amy –
2 Comments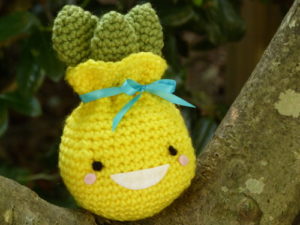 Two of the most popular themes this summer has been pineapples, and of course, kawaii!
Though a little late to the pineapple bandwagon, I couldn't help jumping on after seeing so many adorable designs from fellow crafters. One in particular I saw was a pineapple pot cover with the plants aloe vera leaves making the top of the pineapple. This intrigued me and got me to thinking of an open amigurumi with the leaves poking out of the top, like a drawstring bag with leaves popping out the top.
I wasn't at all sure how it would turn out, but then whoever is?
The pineapple body is made like a simple drawstring bag and stuffed. The three leaves are crocheted separately, sewn together, and then sewn into the bag. For the kawaii features, meaning "cute" in Japanese, I used simple french knots and a few scraps of felt. I topped it off with a contrasting colored ribbon and am now proud to present my Kawaii Pineapple!
I hope you enjoy this pattern! Let me know what you think!
read more »