Posted in
Fun Ramblings
on August 8th, 2013 by Caissa "Cami" McClinton –
17 Comments
Sometimes we can create different textures and effects by crocheting into unexpected places on our crochet fabric. This week we'll focus upon how to crochet over single crochets in rows. For the purpose of practicing this skill, we'll make a small swatch in this tutorial. Yarn and hook size don't matter for this practice swatch.
You may mouse over images for left-handed views.
Row 1: ch 11, sc into second ch from hook and into each ch across: 10 sc
The photo below shows this done.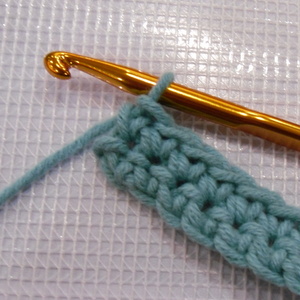 read more »