Posted in
Tutorials and Help
on August 20th, 2013 by Caissa "Cami" McClinton –
5 Comments
For this week's tutorial, I'd like to riff on my last tutorial, How to Crochet Over Single Crochets in Rows by taking the same idea and working it in a circle. For the purpose of practicing this skill, we'll make a small swatch in this tutorial. Yarn and hook size don't matter for this practice swatch.
You may mouse over images for left-handed views.
Round 1: Beginning with a magic ring, ch 1, 6 sc into ring, tighten loop, sl st in first sc: 6 sc
Round 2: ch 1, 2 sc in each sc around, sl st in first sc: 12 sc
Round 3: ch 1, working over the stitches of the last round, work 3 sc into each space below around: 18 sc
The photo below shows this in progress. The "i" symbol indicates round one, "ii" indicates round 2, and "iii" indicates round 3. The arrow is pointing to the space where the next stitches will be worked.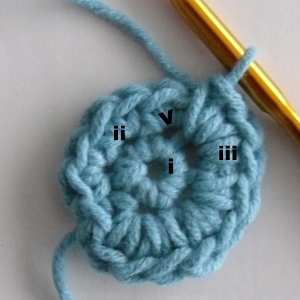 Note: In round 3, you are always working 3 sc over each set of 2 sc.
read more »