A Retirement Crocheted Afghan
By A Guest Writer –
23 Comments
A Guest Post by Barbara Davis.

Anyone who had completed thirty years as a public school teacher deserved a memorable keepsake, I thought when learning that Ann, a dedicated 8th grade Algebra teacher, had announced her pending retirement. Scrapbooking doesn't appeal to me, so I decided to create something in the medium I love best: crochet.
My plan was to make colorful eight-inch squares in single crochet, and give one to each of her friends and colleagues to embellish as desired. These completed, decorative squares would be stitched together forming a patchwork type afghan. Good idea, I thought, and easily accomplished. I am still bemused at my naïveté.

Betty embroidered a large honeybee across her square – Ann's hobby is bee keeping. Penny cross-stitched several squares. My favorite is the school's mascot: the Majestic Lion. Under his chin Penny sewed a tiny bit of tatted ecru lace from her grandmother's precious stash and added tiny snippets of yarn around his crocheted head for his mane. Very cute!
So far my plan was succeeding, but soon things began to…well, unravel. "You must be kidding, Barb" was a common response when I handed the completed square, the tapestry needle and the coordinating small balls of yarn to my colleagues. "I can't even thread a needle," was the common response. The flaw in my plan, I discovered, was few of the teachers had needlework skills. Undaunted, I requested they describe orally or draw their square's design, and I began an Internet search as well as rummaging though my stack of books and magazines seeking suitable crochet patterns for implementation.
The afghan commemorates several aspects on Ann's life: career, hobbies and activities, colleagues. Career motifs include a schoolhouse, a blackboard, geometric figures, a Fibonacci square, the school mascot, and the symbol for Pi. A sailboat, a log cabin quilt square, and a beehive reflect some of Ann's interests and activities. Colleagues' motifs include an American flag, hearts, flowers, a wheel, a cross, and a butterfly. Most of the crocheted objects were appliquéd on the crocheted square, but several, including the symbol for Pi, were worked in tapestry stitch.
The addition of a corresponding color worked in single crochet around the completed squares helped set off the design: brown edged the square with a football motif, variegated thread reflected the rainbow motif, and a green edging reflected the apple's green leaf. Each square was trimmed in cream-colored yarn -I used Red Heart brand yarn for the entire afghan- crocheted the traditional granny-square stitch of three double crochets, chain two, three double crochets. This addition made a perfect "frame" for each square and complemented the patchwork design. It also allowed the whip stitching to appear almost invisible as I joined the completed motifs.
"Done, and done," is Ann's favorite expression when an algebraic equation is worked to the correct solution. But the afghan needed a final touch despite my desire to complete this labor-intensive, time-consuming project. Softening the look of the retirement afghan is a border of cream-colored shells.
Each square has a tale to tell. My friend Jane has uploaded the pictures of the individual squares, and will print them in color for …yes, a scrapbook in which each designer can express their thoughts on the design of the square as well as express best wishes to Ann in her retirement. I picture her reading it while wrapped in her cozy afghan.
Done and done.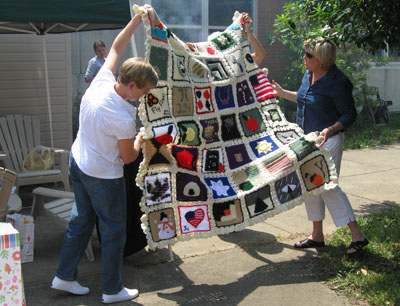 Above is a photo of Ann and a friend, Jane, during the cookout at school when we presented Ann with her retirement afghan.
She was surprised and appreciative.