Crochet Bicycle Cozy
By Rachel Choi –
23 Comments
If you've been visiting Crochet Spot for some time, you'd know that I love featuring fun, quirky, and out of the ordinary crochet items. Here is another one to add to the list!
This is a crochet bicycle cozy. I'm not sure if it's just for show or if it's suppose to be functional. I'm going to take a wild guess and say it is for show since it's eye catchingly, neat to look at. I love cozies as much as the next person, but to crochet a cozy for a bicycle must have taken some good creativity and patience. I probably would never crochet one of these myself, but I am glad that crochet is expanding.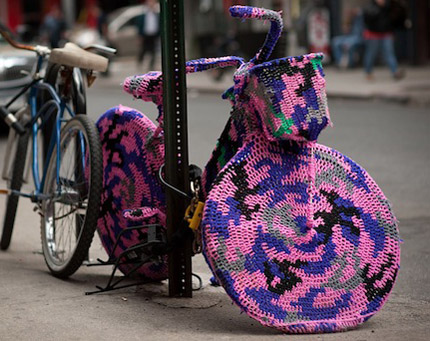 Photo by Joe Holmes.
What do you think about this bicycle cozy?