Crochet Gifts for the Cousins
By Rachel Choi –
8 Comments
My aunt asked me to crochet a few things for my cousins a while ago and I just got around to doing it this morning! The youngest one requested a rainbow hat with a pom pom and a pink flower. Here is a picture of what I came up with!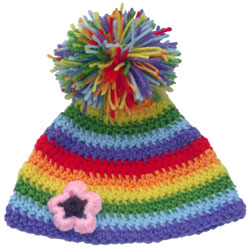 I really like this one! It is the ultimate little girl's hat! It's so bright and colorful…I might just make one for myself!
Here is the beanie that the older sister requested. It's more sophisticated and made with red-ish, multi-colored yarn. It also has a rose on it that is sort of hard to see in the picture, since it is made with the same yarn as the beanie.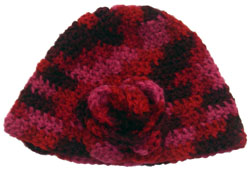 The patterns for both of these beanies can be found right here on my blog! I used the easy crochet beanie pattern for both of the beanies. I did alter it a bit by take out some of the increases so that the beanies would fit young girls. I also changed the colors on each row for the rainbow hat. The pom pom was made using the "How to Make Pom Poms" tutorial. The rose on the red-ish hat was made using the crochet rose pattern.
I also made them some crocheted flower hair ties!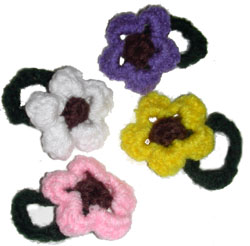 The same hair tie crochet pattern can be found here on my blog. I also used the flower part of that pattern for the pink flower that is on the rainbow hat.
Now I just hope that the beanies fit!!!