Crochet Pattern: Animal Baby Booties
By Rachel Choi –
8 Comments
New in the Crochet Spot Store, this pattern set includes 3 different baby bootie sizes and 5 different animals to crochet! Each animal pattern has 3 sizes to correspond to the 3 different bootie sizes. The 5 animals include the teddy bear, bunny rabbit, cat, dog, and mouse. Feel free to crochet the whole set of animal baby booties for your baby! The pattern also includes an optional tie that can be placed on the booties so they won't fall off of your baby's wiggling feet. The ability to embroider the animal faces is required.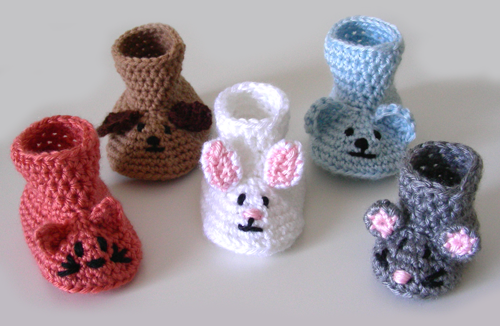 Please visit the Animal Baby Booties page for more information on this pattern! If you need any help while crocheting your baby booties, just let me know and I'll help you out!
Click here to see pattern details!
All purchases help to support Crochet Spot and are greatly appreciated! Please login or create a new account at the Crochet Spot Store to purchase this pattern. Premium Pattern Members may log into the store and download the pattern for free.