Crochet Pattern: Sporty Pacifier Holders
By Rachel Choi –
Be the first to comment
Pacifier holders are great if you're always loosing your pacifiers. The end of the pacifier holder that is appliqued with a sport ball is clipped to the baby's clothing while the other end dangles with a pacifier. These holders can also be used for small toys, not just pacifiers! Pacifiers and toys can easily be removed from the holder so that they can be washed. The pattern includes the pacifier holder pattern that you can crochet in an assortment of colors, and the 4 sport ball appliques: baseball, basketball, football, and soccer ball.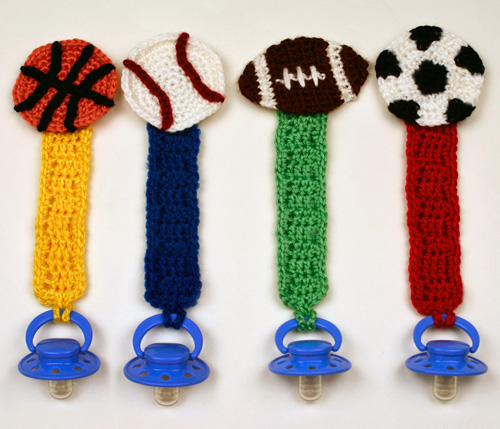 Click here to see full pattern details!
All purchases help to support Crochet Spot and are greatly appreciated! Please log in or create a new account at the Crochet Spot Store to purchase this pattern. Premium Pattern Members may log into the store and download the pattern for free.