Crochet Pattern: Striped Eyelet Chunky Shrug
By Rachel Choi –
Be the first to comment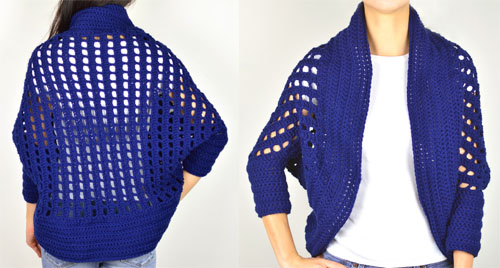 Super comfy and warm, this over sized shrug is a must for your fall and winter wardrobe. The shrug is crocheted with a striped eyelet pattern to create a fabric that drapes easily, has textural interest, and is still surprisingly warm. The solid border is used to contrast the lighter eyelet pattern. Instructions for adjusting the shrug to any size or fit is included within the pattern. Whether you're an extra small or plus size, customize this shrug to your liking.
Click here to see full pattern details!
All purchases help to support Crochet Spot and are greatly appreciated! Please log in or create a new account at the Crochet Spot Store to purchase this pattern. Premium Pattern Members may log into the store and download the pattern for free.