Excitement Added to My WIP and WIM
By Veronica Smith –
31 Comments
I had something written for all of you it was titled "WIP and WIM", that's changed – as you can tell by the title of the article you are now reading. I've kept with the original thread but added some! I know your just bursting with excitement to find out why I have changed the title (pretend you are) – I shall tell you.
Firstly, what am I going on about? For the uninitiated, a WIP is a "work in progress", you know, the one or ones you are currently working on even if you have only done the first row before putting it into a bag or box and forgetting about it. A WIM is a "work in mind", they are all the other projects that you know you need to, or want to do next.

My WIM possibilities have just expanded – exponentially, and I need your help. I have recently become the proud owner of copious amounts of natural fiber balls. Many different colors, textures and blends. The one thing they all have in common is that they are natural fibers, wool, mohair, alpaca, cottons, linen and blends thereof. Now I must confess that I have a real thing for natural fibers. I do love the way the synthetic industry has made all sorts of fancy yarns that are easily washable, look fantastic and are more affordable than natural products, and I do use them, they are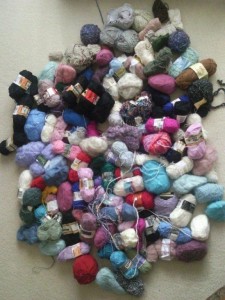 practical and pretty. However give me natural fiber product and I am in true bliss. I even like brown paper and Hessian bags. Of course the natural fiber must be manufactured without having harmed or killed any animals and I do like my cotton organic. I am one of those odd balls that don't use any form of pesticides, consequently living in the Australian bush environment we have Learjet to love bugs and arachnids. I do favor free trade as well. As I said, it's just my slant on life.
Anyway, waffling again…back to the WIP. I have plenty on the go. These things multiply, if you're like me than they multiply beyond the speed that physicists can work out. Firstly my WIP. In my car I have a bag that contains a scarf that I am currently doing. It is solely for doing at the bus stop when I am waiting for my daughter to get off after school. There is also another bag in the car with a sweatshirt for the same child. I do this at dancing lessons because I get an hour that is relatively uninterrupted.
Then there is the house. My current focus in on a project that I am contributing to a book on free-form crochet work. I have it on a rather large board teetering on the now multi-purpose coffee table in the family room. It has all sorts of things sitting on it waiting for placement, The sofa in that room also has yarns and other bits and pieces teetering on it. In the TV room there are multiple pieces of varying yarns that I am working on for the free-form piece, plus 2 beanie's and a scarf. So there alone is two rooms cluttered. Just outside the TV room in a not so very hidden plastic box is a free-form scarf in autumn colors and a sweatshirt awaiting completion and in my bedroom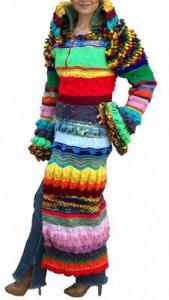 another 2 half completed afghans.
WIM – well let's just not go there…except for my current yarn situation.
I did think I was alone in this phenomenon, the collection of half finished items that is, however belonging to a couple of internet crochet groups I have discovered I am not alone. Maybe it is a disease that us "hookers" get. Certainly a malignant condition however not fatal, unless your stash falls off the shelf and smothers you. Assuming I am going to complete all the things I have started and all the things I want to do, not to mention things I haven't thought about to use up the embarrassingly large amount of yarn I have, I will live forever. The secret of immortality revealed. Let's just hope arthritis doesn't set in and my eyesight hangs in there.
BUT my friends, back to the recent acquisition of balls of wool. I was thinking of making a "coat of many colors" sort of a magic ball coat only using whole balls each time. What do you think? I've always wanted a coat.
So folks, a couple of questions for you:
1)Â  What do you think I should make? I don't need any more afghans.
2)Â  How are you going with all your WIP's and WIM's?
3) Are you a rare breed of craft-person that can start and finish one item? (If so then you are special, unique, maybe the last of your species)