Free Crochet Pattern: Dewdrop Boho Headband
By Amy Yarbrough –
2 Comments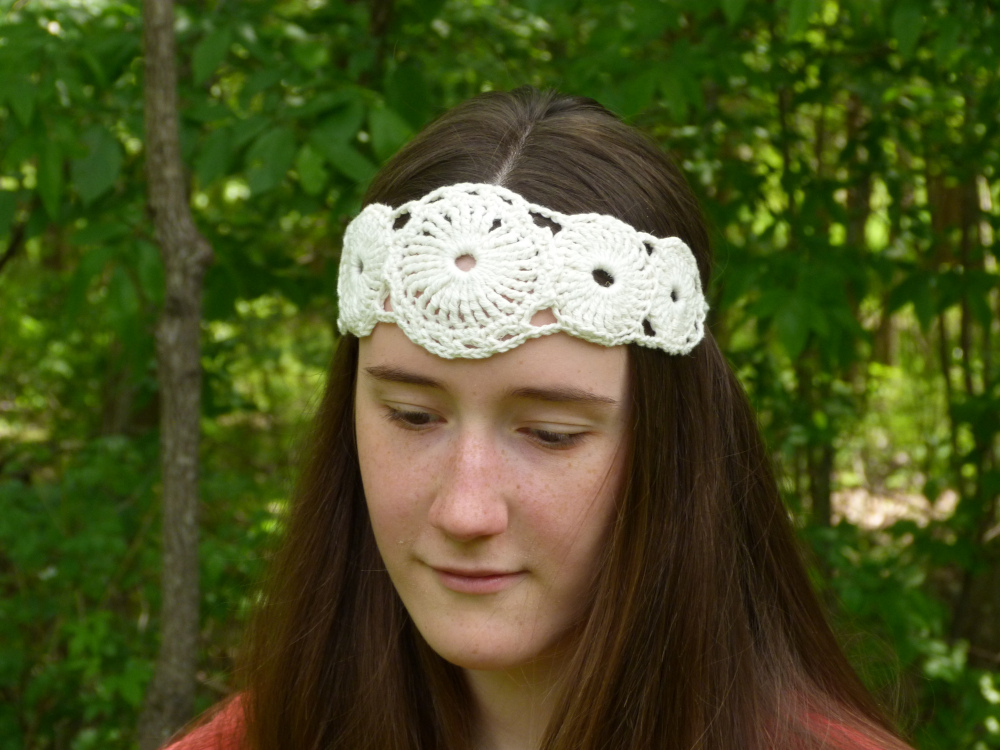 Everyone has a little hippie in them, am I right?
At least, that's what I tell not-so-hippie-inclined people. However, whether you go for the hippie/boho style or not, this headband is the perfect choice. Wear it either way you like: across the forehead, for an eclectic look, or over the head, for a more traditional look (see picture below).
What is great about this pattern is that it utilizes taller crochet stitches. (See post, How to Crochet Tall Stitches) The headband is worked in separate circle motifs, from large to medium and small, and then sewn together. A light border is worked over the band of sewn circles to bring it all together and simple ties are attached to the ends for easy wearing.
Ready to give it a try?
(Kudos to my sister for looking smashing in the headband! Doesn't her long, thick hair just fit perfectly?)
| | |
| --- | --- |
| Skill Level: | |
Finished Size: Main strip measures 3" (8 cm) wide at widest circle x 11" (28 cm) long, with ties to fit any head size
Materials:
DK or Light Weight Yarn (approximately 40 yards)
Crochet hook E (3.50 mm)
Yarn needle
Gauge:
Small Circle pattern measures 1 ½" in diameter
Stitch Notes
This pattern is worked with tall stitches:
Quadruple Treble crochet (Quadtr)
Triple Treble crochet (Trtr)
Double Treble crochet (Dtr)
Read more about tall stitches at How to Crochet Tall Stitches
Need help understanding the abbreviations and symbols? Check out the crochet abbreviation chart.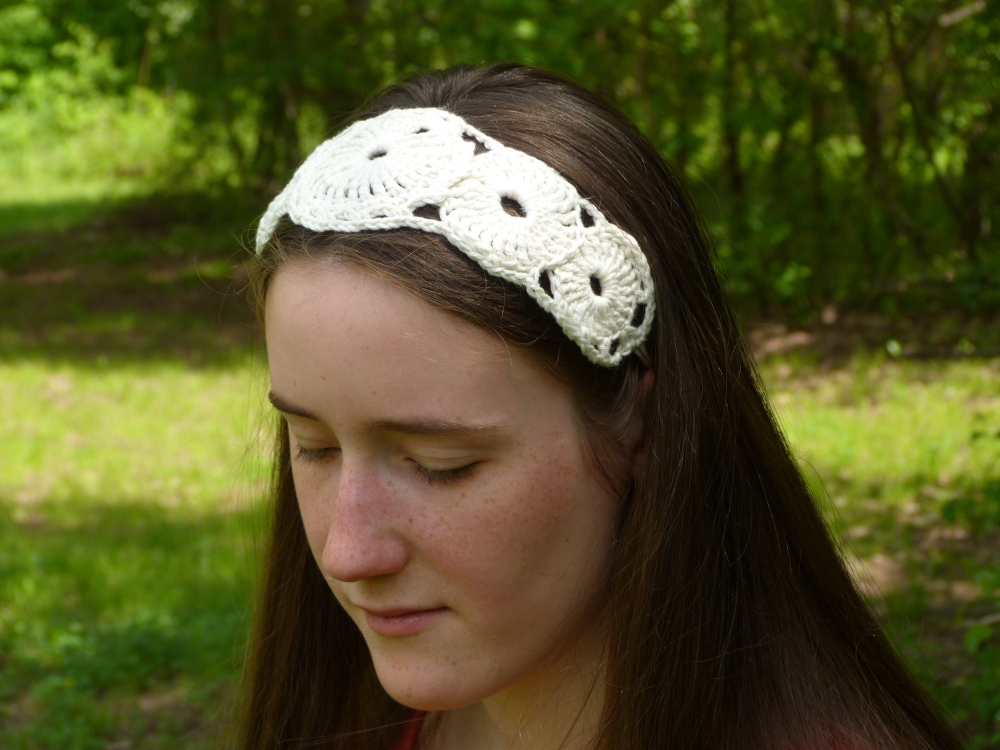 Crochet Pattern: Dewdrop Boho Headband
Large Center Circle (make 1)
Round 1: make an adjustable ring but loop yarn over finger four times, ch 6, 28 quadtr, sl st in first quadtr: 28 quadtr
Round 2: ch 1, (do not turn), * (sc, ch 2, sc) in next st, sc in next st, repeat from * around, sl st in first sc: 42 sc
Finish off.
Medium Circle (make 2)
Round 1: make an adjustable ring but loop yarn over finger four times, ch 4, 26 trtr, sl st in first trtr: 26 trtr
Finish off.
Small Circle (make 2)
Round 1: make an adjustable ring but loop yarn over finger four times, ch 3, 24 dtr, sl st in first dtr: 24 dtr
Finish off.
Sewing Circles
With a yarn needle, sew Medium Circles to either side of Large Center Circle evenly, overlapping the larger circle on the medium circle just a bit. Sew Small Circles to sides of Medium Circles evenly, overlaping as before.
Border
Join yarn on circle strip at the very end of a Small Circle, ch 3, dc in same st, * ch 3, sc in a couple of sts down (you can skip 2 sts and work in third st or you can just eyeball it like I did), and repeat from * till you reach the other side, work 2 dc in very end and repeat from * to * until you reach the beginning ch-3, sl st in ch-3.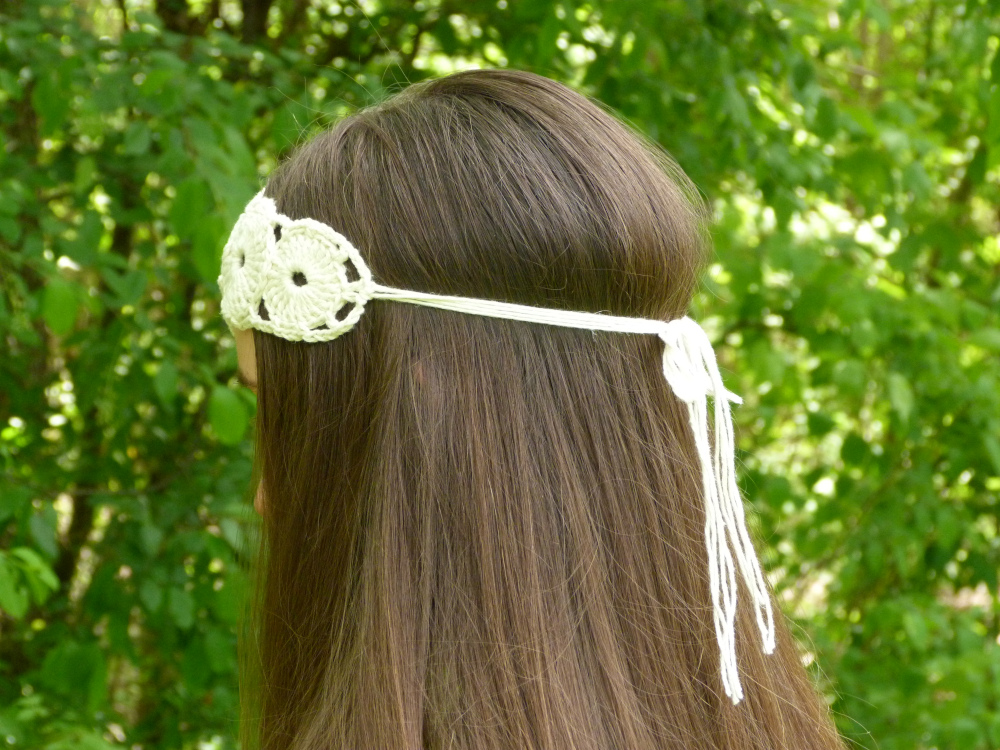 Tie Strands
Cut 4 strands of yarn measuring 34 inches each. Attach one to each dc at the very corners like you would a tassel.
Alternate Ties
Or if you prefer, sew a length of ribbon or elastic to the band.
If you have any questions or problems while crocheting don't hesitate to leave me a comment so I can help you out!