Free Crochet Pattern: Flower Fairy Vines
By Claire Golden –
8 Comments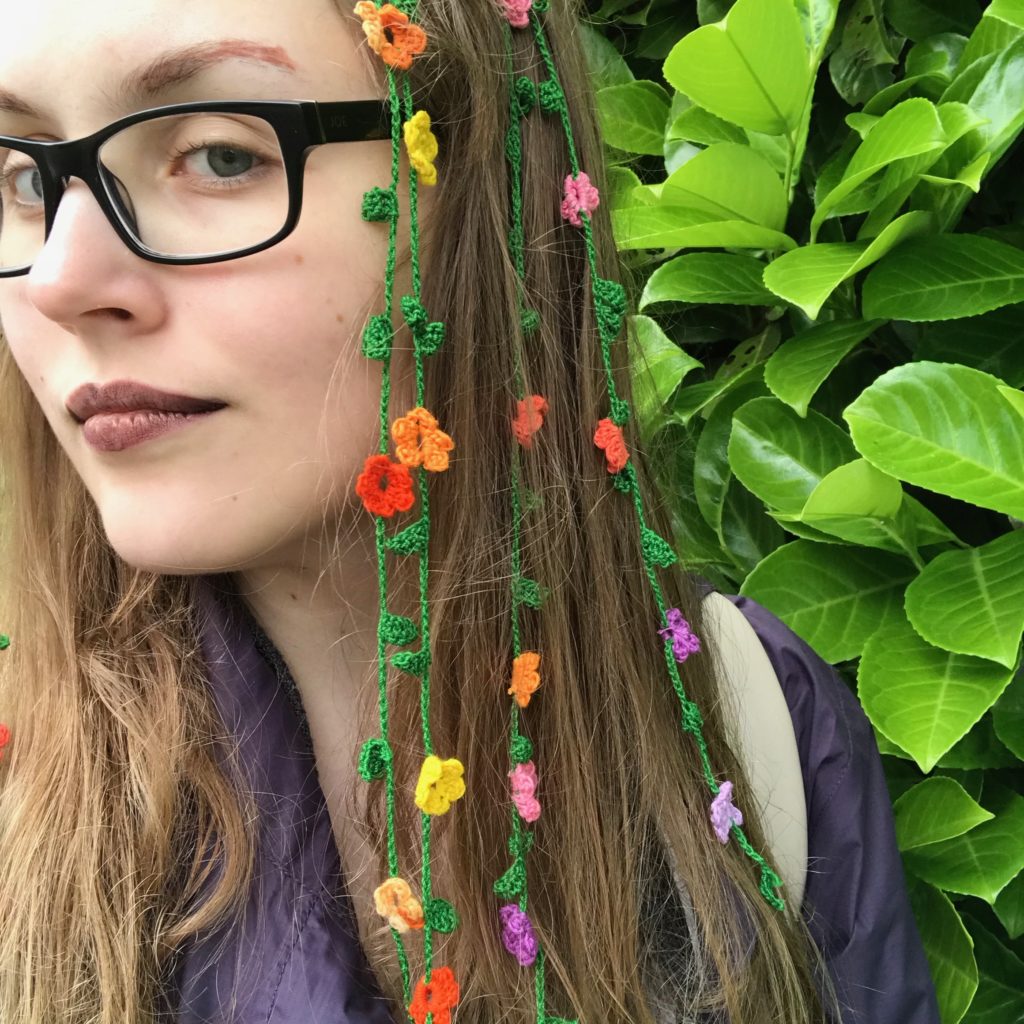 I love everything about daisy chains except for the fact that they wilt. So I crocheted these flower chains that will stay fresh forever. They're made freeform crochet style – I have guidelines on how to make the leaves and flowers, but the order and frequency is up to you. You could make a vine with entirely leaves, entirely flowers, or a mix of both like I've done. They can be worn in your hair, turned into jewelry, used as bookmarks, and anything you decide. Wearing them in my hair makes me smile and I've gotten a surprising amount of compliments, which just goes to show that the world needs more bright and cheery flowers.
| | |
| --- | --- |
| Skill Level: | |
Finished Size: up to you! My finished vines are about 18″ (30 cm) long. If making a hair vine like mine, measure the length of your hair and subtract about 3″ (9 cm).
Materials:
Crochet Thread in green (approximately 20 yards for the vines pictured)
Embroidery Floss in desired flower colors (approximately 4-5 yards per flower). I used orange, yellow, purple, and pink.
Crochet Hook 2.1 mm
Gauge:
There's no need to match gauge for this project. What matters is that you like the texture and fabric. If your leaves are too loose and floppy, go down a hook size for the best effect.
Need help understanding the abbreviations and symbols? Check out the crochet abbreviation chart.
Crochet Pattern: Flower Fairy Vines
To make a vine, begin with a leaf. Then work the different components (leaf, double leaf, and flower loop), make a chain of about 10-15 between each. Continue until the vine reaches the desired length. If you wish to make a double vine, make an Attaching Loop here. Then create the second side of the vine just like you did the first side. At the end, make a final leaf, and finish off. Add flowers to the flower loops. Weave in ends.
Pictured below are a single leaf, double leaf, and a few flowers.

Leaf
Ch 7, sl st in second chain from hook, hdc in next ch, dc in next 2 ch, hdc in next ch, sl st in last ch.
Double Leaf
Make leaf as above, then ch 6, sl st in second ch from hook, hdc in next ch, dc in next 2 ch, hdc in next ch, sl st in front loop of the last sc from first leaf.
Larger Leaf
Ch 8, sl st in second ch from hook, hdc in next ch, tr in next 2 ch, dc in next ch, hdc in next ch, sl st in last ch.
Flower Loop
Flowers will be worked into these loops after the vine is complete. Make a flower loop anywhere you want a flower to be placed. Ch 4, dc in fourth chain from hook.
Attaching Loop
This simply forms a large loop that you can slide onto a bobby pin or hair clip. It should be at the middle of the vine. Ch 11, sl st in tenth chain from hook.
Flower
Locate a flower loop. There are two sides: the chain-3 side and the dc side. Join embroidery floss to the chain-3 side. (Ch 2, dc in loop, ch 2, sl st in loop) 2 times, ch 2, dc in loop. Work along the dc side, ch 2, sl st around the dc of the flower loop, (ch 2, dc in loop, ch 2, sl st in loop) 2 times, finish off.
Need help while crocheting? Feel free to leave a comment below and I'm happy to help!