Going to Market With Your Handmade Goods
By Corinne Munger –
15 Comments
As you progress in your crocheting skills, you learn to like your items more and more. The people around you tell you how talented you are and you even start to impress yourself! Then the day comes when you feel you're good enough to sell your products. Good for you! But where do you start? What are the best avenues? How do you know what to charge? Where do you sell? As a 20+-year veteran in retail, I'd like to list some basics on how to get started in this exciting venture.

1) Have a theme to your craft
You crochet. Everyone gets that. If you've been crocheting a while, chances are you can crochet almost anything. But when you go to market with your product, having things that all belong to a "group" is much more appealing to your customer base. If you want to sell accessories, for example, then sell accessories – hats, scarves, mittens, purses, etc. If you add in blankets, stuffed animals, doilies, and doll dresses, then your inventory looks like a bunch of crocheted "stuff". Buyers are easily turned off by too many choices. If you limit your offerings to just a few items, your display (whether online or in a craft show) looks much more professional and organized. If it's children's items you make, don't add in place mats and dishcloths just to show the world you have a great talent. They already get that.
Think about what you love to make the most and stick with what you know. Offer it in many colors or sizes. When you start grouping your items to look like sets, you'll be very impressed with what you've created – and so will your potential buyers.
2) Make your items better than anyone else
Anyone who crochets can make a washcloth. Make YOURS in the most popular colors (do some research to see what they are). Make yours out of, not just cotton, but maybe cotton hemp, or maybe all natural fibers. You may have to pay a little more for a special fiber, but it'll set you apart from the rest. Make sure there's no loose ends, or heaven forbid, pulled loops when you display your products! Buyers want perfect items even though they know handmade isn't perfect.
3) Pricing
Here's a subject that's hard to get an agreement on one answer. Years ago I was taught that you take the cost of your material and add it to the time it took you to make the item, multiplied by a wage suitable to what you do. Using this method, if I made a washcloth and it cost $1.50 for cotton yarn and took an hour to complete at $8.00/hour, the washcloth would carry a $9.50 price tag. If you find customers willing to pay that for a washcloth, please contact me right away – I want in on that action! Ha ha ha! Let's be serious. In today's world, that's not going to happen unless you supply stores like Neiman Marcus. But if you do some research, you could reasonably get $5.00 for a washcloth – and it's more likely to sell in a set of 2 (or 3 if you crochet faster) for $10.00. One rule in selling is "it's only worth what someone will pay for it".
The more you make of the same item, the faster you will become at completing it, so your worth per hour will go up a little. Unfortunately, there are crafters in other countries who are paid minimally for the same types of goods we make that are then sold to big box chain stores, de-valuing what we create here, in this country. That's why I wrote paragraph #2. Make it better, make it different, make it more desirable than what's already available and you can put a reasonable price (to you) on your items.
If you make children's sweaters, and need 6 hours to complete one, you may or may not be able to get $50.00 for it. I found a simple child's cardigan pattern and changed the colors to mimic those of famous cartoon characters (Mickey & Minnie Mouse, Sponge Bob, etc,) and everyone went crazy over them. The pattern was easy, I just changed a few colors, and I was able to get what I asked for. Now the SAME pattern, in dull, everyday colors would NEVER get the price I asked for. There was no difference for me to change the colors. But I was the only one with this idea, and there was no where else anyone could go buy these – I could name my own price. Maybe you make washcloths with cotton yarn AND a thin strand of twine making it a SCRUBBER cloth? Can you get $5 now? Sure! Maybe even $7.00. If you want to get a decent price for your work, make it a decent item for sale.
If you're still not sure of what to charge for your items, ask friends and family what they would expect to pay for it. Usually, though, they're kind and will tell you a higher price than you thought. Again, just do some research – ebay, etsy, google, etc. – there's sure to be something comparable to what you make. If yours is better, charge more.
4) Where to Sell
You have your inventory, you're happy with the asking price, now what do you do with them? Start with the internet. I have been selling online pretty much since the internet came about, so I feel confident in what I have to offer here. Use it how you see fit.
Open an account on Etsy and list one or two of your items there. It costs 20 cents per item so you have almost nothing to lose. Just listing one or two items will get you familiar with the process. It's fairly simple. There are statistics on there that will allow you to see how much interest buyers have in your item. Use these statistics (how many people clicked on your item and how many times they were "favorited") to determine if your item is a winner or not. If there aren't any hits or likes after a couple of months, just accept that there's no interest and move on. If there IS interest, you'll start seeing sales. This will tell you which items people like/dislike or if your item is priced right (if you're getting lots of hits, but no sales, it's probably your price point). Then you can make adjustments to get some sales. You can use etsy as your online store, or if you're doing really well, you can look into setting up your own website. Keep in mind though, it took me about a year to start seeing sales on etsy. I wasn't very active on it and didn't renew my listings very often – so it was kind of my own fault.
If you decide you want to get out and sell your items in public (craft shows, farmer's markets, a booth in a mall, etc.) then take the items with you that are doing well online – these are what buyers want – you've already proven that.
Get a business page setup on facebook. It's simple and takes just a few minutes. Every time you make a new item, put it on facebook and ask your "friends" to give you feedback – you could see sales from there as well. If there's interest, you could direct them to your etsy shop, your own website or let them know where you're going to be set up in town. You could even sell directly to them.
5) Make your product look its best
Something as simple as a ribbon tied around a washcloth will make it sell 10 times faster than just having a plain, unadorned one. Take a look: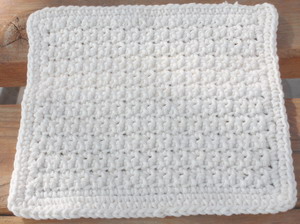 A simple washcloth versus a well put together, dressed up little "stack". Buyers are drawn to neat and tidy and attractive looking items. Make a pretty tag that has your name and website info (or phone number or whatever information for them to contact you).
Take good, clear pictures. I cannot stress this enough. If you sell online, you MUST have good pictures. I will go to my death bed saying that good pictures are what sell your item online! Buyers are attracted to pictures of items taken outdoors, accessories seen on attractive young ladies, natural-fiber items taken with minimal surroundings, or household items paired with antiques. Pictures make all the difference.
The props you use in your photos should be the same ones you take with you when you sell out in public (if possible). Dress your booth up to enhance your items and you will see them fly out the door. Give your buyers ideas on how they too can display your products once they get them home. If you have great pictures, have them enlarged to be displayed in frames on your table. Group like items together so they are seen as sets.
This article in no way captures ALL the details of how to sell your wares but I believe it's a good start. Research "how to sell your crafts" online and you will get a wealth of information. If you're serious and you want to make this a way of life, every moment you spend educating yourself in this area will pay itself off tenfold. I wish you luck in your endeavor!
If you have something you'd like to add to this posting or any comments, I would love to hear from you! Just leave a comment and I will reply as soon as I can.