Helping the Homeless and Saving the Environment by Crocheting
By Rachel Choi –
33 Comments
Below is a photo of Rita Kunc and she is holding a 6 feet long plastic sleeping mat, which she made for the homeless. She crocheted it in single crochet using plastic bags from milk.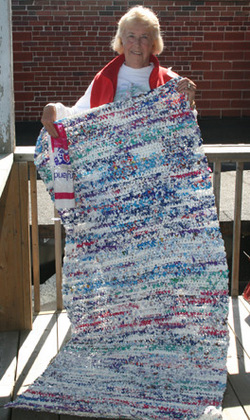 If you would like to crochet a plastic sleeping mat too, here are the instructions and pattern:
Materials:
Plarn (plastic yarn) – Here is the tutorial: How to Make Plarn (Plastic Yarn). You will need lots of bags (too big of a number to even guess), so keep collecting them as you crochet your mat.
Crochet Hook – since plarn can be made in different sizes, use a hook that you are comfortable with
Crochet Pattern: Sleeping Mat
Row 1: make a chain that is as wide as you desire your mat to be
Row 2: sc in second ch from hook and in each ch across
Row 3: ch 1, turn, sc in each sc across
Repeat row 3, until the mat is 6 feet long, then finish off.
Creating one if these mats may take a long time! So be patient. Rita Kunc took about a year to make one!