Posted in
News
on July 26th, 2010 by Alicia Kachmar –
5 Comments
Although it has been 6 months since the catastrophic earthquake hit Haiti, the already impoverished country is still struggling on just about every level. How could crochet possibly come into play? Here goes: Pat Eidsness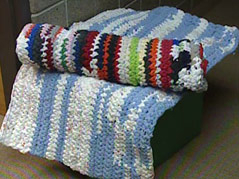 is the pastor of South Dakota's Peace Lutheran Church and she recently spent time volunteering in Haiti. While there, Eidsness tried instructing mothers to avoid letting their children play in or sleep on the dirt-covered ground.
Upon her return to Sioux Falls, SD, she wanted to do something more for the people of Haiti, so she started brainstorming. Her memories of the mothers and children sparked an idea: cutting up t-shirts into strips and crocheting mats from them. Soon enough she was requesting t-shirt donations from the community and asking for volunteers, from experienced crocheters to those who have never crocheted (but are willing to learn!). The collective effort has already resulted in dozens of completed mats and it's fortunately an ongoing effort.
You can read more about crocheting for Haiti here.