Posted in
Fun Ramblings
on November 2nd, 2013 by Caissa "Cami" McClinton –
Be the first to comment
Have you been stitching away on your projects for the Quick and Easy Holiday Crochet Along? Not done yet? Don't worry. You're so not alone! That's why we call it a crochet along! I have been stitching in my rare free moments, and I guess I chose the largest project on the list, but I really wanted the vest, and besides, it is really pretty and really easy! 😀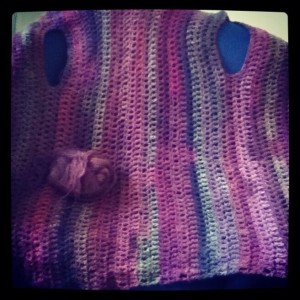 Here is a photo of my work in progress. It's getting there!
I'm not done yet, but I still wanted to share my pictures! I am hoping this will propel me forward and get me to finally finish this project! 🙂 The thing is, during CALs, you're also supposed to share questions, advice, and comments on others' projects! I thought I would start this conversation here in the comments so that we can (hopefully) chat back and forth.
Please share your progress pictures online – share here, on your facebook page, instagram, twitter, flickr, Ravelry, and even email to Rachel! Copy and paste the link here in the comments. Please note, this comment thread is only for progress pictures. It won't enter you for the CAL prize. It's just for fun!
"You go girl" & "Right on" comments to one and all are especially appreciated! 😀 You can even bookmark this page and check back often! 🙂 Now, go take a picture of your project and post it… Now! 🙂