Posted in
Tutorials and Help
on April 17th, 2013 by Caissa "Cami" McClinton –
4 Comments
There are many ways to join crocheted pieces together. This tutorial will focus upon joining two granny squares together using slip stitches and the outside loops. This particular technique can be used to join any crocheted pieces together, including seams on garments or accessories. The resulting seam is very strong and will make your pieces look like they are sitting side by side. I like this seam for modular pillows, blankets, and bags.
For the purpose of this tutorial, I will be using pieces and joining yarn in contrasting colors. If all of the pieces and joining yarn are of the same color, this seam should be invisible. Yarn and hook size do not matter for this practice tutorial.
If you'd like to follow along step by step, you may first use the granny square crochet pattern to make two 2-round granny squares. Then use your remaining yarn and your hook to follow along. If you need to review the slip stitch, check out the slip stitch tutorial.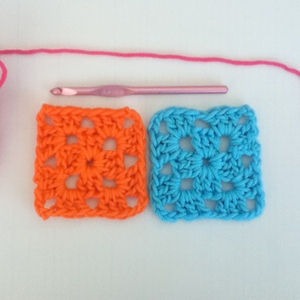 read more »