Amigurumi Tips and Tricks
By A Guest Writer –
14 Comments
A Guest Post by Ivory Herman.
So you've found these super cute crocheted stuffed creations called "amigurumi", fell in love with them, and have stuffed your house full of them with intentions of finding "homes" for all of them? Has this obsession lead you to the internet to search for tips and tricks to make your creation look nice and spiffy? Perhaps this is just something that I do; however, I would like to share a little of what I have learned when making these super cute creations.
Sewing limbs and pieces onto an amigurumi can make for much frustration. This was a very frustrating thing to me, especially when I sew a leg on and it can be mistaken for a tail because of where I sewed it. Or when you have several individual pieces, like in the picture of the dinosaur that I made for my son! As you can see, none of the scales are evenly spaced.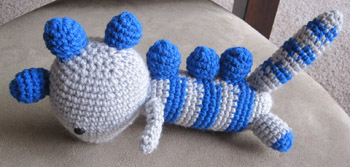 Then one day, I discovered straight pins, and wondered why in the world I hadn't thought of this earlier! You can get these from any store, even grocery stores. Before you sew a piece onto your creation, pin it up, look at it, and if it's awkward, just move it around and then sew it on. While you're sewing, remove the pins as you sew so that way they will keep your piece in place while you're attaching it to the body of your work.

Big hook, little hook!? Once, I finished an amigurumi and found that I could see what I stuffed it with (as seen in the picture). I guess I had this notion in my head that I had to stick with the recommended hook size, which lead to me being able to see the insides of my piece. The simple solution is to use a smaller hook size, which will leave less space between stitches. Amigurumi are pretty much forgiving in what hook size you use.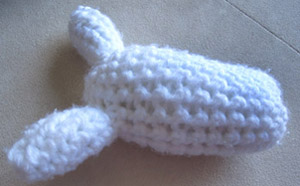 | | |
| --- | --- |
| A loose leg, arm, and/or ear! Meet my blind kitty, the very first amigurumi I crocheted. As you can tell, almost all of the ends are loose, and the arms are even falling off! When I made this amigurumi, I left ends that were too short to stay tucked in and as a result, they would slip back up through the stitches. Always leave at least 2-3 inches of a tail, that way you can have enough of an end to keep it hidden. Another method to keep the tails from slipping out is to not shove them through the stuffing first, but weave them under a row of stitches and then tuck the end into the stuffing. This will provide your ends with an anchor to hold onto when the object is being played with. | |
A wonderful array of colors. When I have an amigurumi that has stripes in it, I would usually cut color A and leave the end inside the work, then go on with color B. Unfortunately this would sometimes leave a hole in the work. What I found that works really well is not cutting color A, but leaving it uncut, until you need it again. That way you can just pick it up and drop the color you don't need. All you have to do is pull color A tight so you don't have a really loose stitch.
What to do when putting your work down. So it's 2am in the morning and you have finally forced yourself to put your work down for the night; however, like me you're afraid that your work will be torn out by accident? Get a stitch marker that is lockable, pull on the yarn of your last stitch so the loop is fairly sizeable, and lock that stitch marker to that loop. Then you can pull your loop tight and not have to worry about losing stitches in your work.
Hopefully these tips and tricks will help save you time and frustration. Please feel free to share what tips or tricks you have in a comment below.
Ivory has been crocheting for around four years. The things Ivory likes to crochet most are amigurumi and dishcloths, but she is always up for challenging herself with new projects. Besides crochet, she is a mother to a one year old boy and a stay at home mom with a degree in Psychology. To learn more about Ivory visit her blog xX The Catalope Blogs Xx.