How to Sew Amigurumi Parts Together
By A Guest Writer –
13 Comments
A Guest Post by Stacey Trock.
When making amigurumi and other crocheted toys, one thing you're going to have to do is sew pieces together, such as attach a leg to a body. Here's how I do it, step-by-step.
First, you will crochet the pieces according to the instructions in the pattern. I've crocheted a little blue head and a yellow beak. As instructed, I left a long tail when I fastened off the beak, and I'm going to use this yarn to attach the beak to the head. To attach pieces, you're also going to need a tapestry needle, also known as a yarn needle.
Thread the tapestry needle with the long tail of the piece that you want to attach. The first thing I do is I pull the tail through the next stitch on the beak, as pictured below. Doing this isn't necessary, but it helps to hide the little knot that you get from fastening off.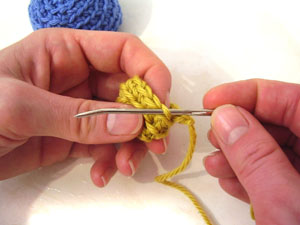 Now you're ready for the real attaching! Since I crochet through the back loops, there are lots of easy-to-see ridges on my head that I can use to attach to. If you crochet through both loops, don't fret. The stitch won't be as obvious to see, but you can insert your tapestry needle into the stitch just the same. I insert my tapestry needle through one stitch on the head, and then through one stitch on the beak, as pictured below.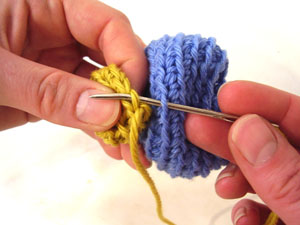 Pull the yarn, and you'll see that you've done your first attaching stitch. Hooray!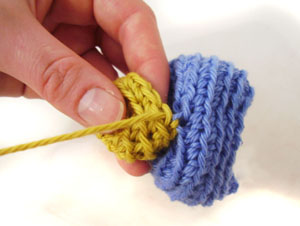 Now, continue this all the way around… attaching each stitch of the last round of the beak to a corresponding stitch on the head. If you are attaching a piece that you need to stuff, be sure to stuff the pieces before it's completely attached!
Once you've finished attaching your piece, fasten off (you can tie the knot on the inside of the head so no one will notice), and you're done! Looks great!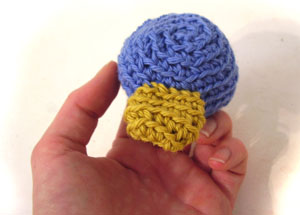 Hope this tip helps you out when you're assembling your amigurumi!

Stacey is the author of Cuddly Crochet: Adorable Toys, Hats, and More. For more of her amigurumi tips and techniques, visit her blog Fresh Stitches.