Blocking (Killing) Acrylic
By Candace –
22 Comments
Wet blocking is an easy way to work with natural fibers, but for acrylic, it often isn't enough. Blocking acrylic with heat is commonly referred to as "killing" acrylic. It's a handy thing to know how to do, and it's important to do properly because once it's done, it can't go back to its original shape. Blocking is great for getting the edges or shaping you want on a project, and stretching the acrylic while blocking can actually give a finished project more drape.
Killing acrylic with heat works with the fact that acrylic is plastic and it melts and deforms when heat is applied to it. You are manipulating the fibers while they are in a more manageable state. It's much different from wet blocking or heat blocking wool and other natural fibers, which is more akin to wet setting or heat styling hair.

Prepare your work surface and project. I like to use a towel in case there are any mishaps, plus I find it works well with or instead of a blocking board. If you have blocking pins and want your project to have a certain shape, especially one with crisp corners, pin the edges down. For some projects, you may just want to block in sections and let the weight stretch the fabric the way you want. For things you want to flatten (for example, circles that are a little too floppy or edges that curl), have another towel or some other fabric ready for pressing.
Start at the synthetic setting on your iron and hover the iron over your work as you work your way up through the settings until you find one that is sufficiently hot but won't damage your fabric.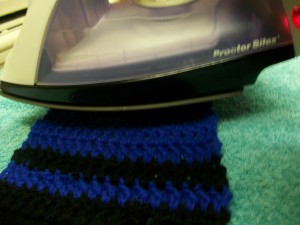 Avoid contact between the iron and fabric. The acrylic can melt and you can end up with a ruined project and a ruined iron.
If you are flattening a project, cover with a towel or other cloth and press your project for a few seconds at a time, checking it often.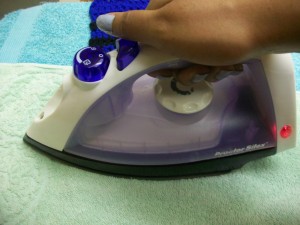 You may use the steam setting while killing the acrylic and let the heat from the steam do the work, if you prefer.
It pays to be patient and careful when blocking acrylic to avoid ruining all your hard work and/or your iron, and if you need help before you start the process yourself, feel free to leave a comment below.