Crochet Pattern: 3 Box Set
By Rachel Choi –
3 Comments
New in the Crochet Spot Store, this pattern set is for 3 different sized boxes with lids that are great for using as gift boxes or for storing small items. The boxes are designed to be nesting, so that the smaller boxes fit perfectly into a larger box for easy storage when not in use. Each piece is crocheted in the round so that no sewing is required. The pieces are also designed with defined corners, unlike other boxes that are crocheted in the round. The pattern uses tight half double crochet stitches to make each box quick to crochet.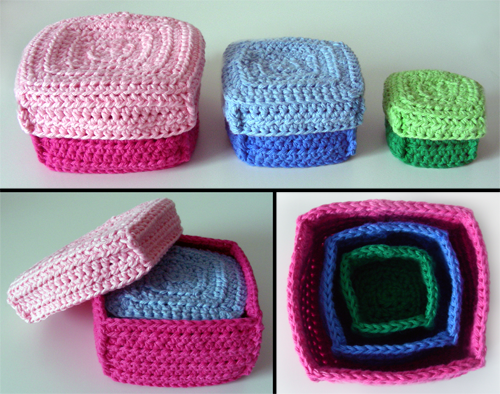 Click here to see pattern details!
All purchases help to support Crochet Spot and are greatly appreciated! Please log in or create a new account at the Crochet Spot Store to purchase this pattern. Premium Pattern Members may log into the store and download the pattern for free.