Crochet Pattern: Chocolate Covered Strawberries
By Rachel Choi –
1 Comment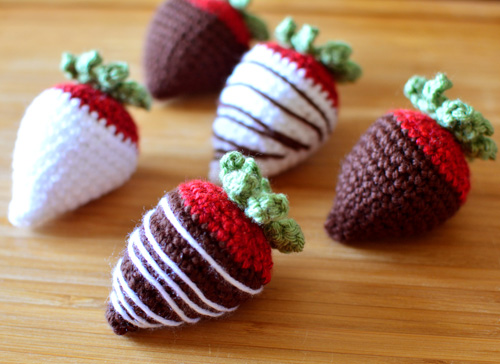 Who can resist chocolate covered strawberries, especially if they are zero calories! Crochet a bunch of strawberries as a gift, as play food for children, or as decoration for your home. Each strawberry is crocheted seamlessly in the round with a special technique for a smooth color change. Make a variety of strawberries with brown yarn for milk chocolate, white yarn for white chocolate, or even all red for no chocolate at all. Embroider designs onto the strawberries if you're feeling ambitious.
Click here to see full pattern details!
All purchases help to support Crochet Spot and are greatly appreciated! Please log in or create a new account at the Crochet Spot Store to purchase this pattern. Premium Pattern Members may log into the store and download the pattern for free.