Crochet Pattern: Lacy Top Cosmetic Bag
By Rachel Choi –
5 Comments
Looking for a cute pouch to hold your makeup? Crochet this bag to store all of your cosmetic goodies or use it as a regular clutch style purse. This bag is designed with a rounded, wide bottom so that it can stand up on its own, but is also flexible enough to lay flat. The stitch pattern is solid with minimal holes between stitches so that small items will not fall out. It is crocheted seamlessly in the round, like a spiral, from the bottom up. No sewing is required, other than the single button. Crochet the body of the bag in a solid color and choose your favorite contrasting color to crochet the lacy flap. Although not required, feel free to line the finished bag if desired.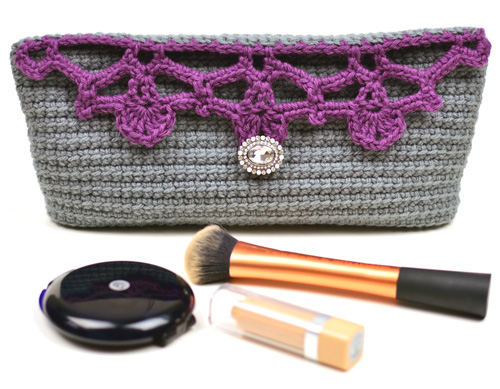 Click here to see full pattern details!
All purchases help to support Crochet Spot and are greatly appreciated! Please log in or create a new account at the Crochet Spot Store to purchase this pattern. Premium Pattern Members may log into the store and download the pattern for free.