Crochet Pattern: Pressed Petals Bookmark
By Claire Ortega-Reyes –
6 Comments
Don't we all like having those cute bookmarks? I do–but then I always lose them! So I came up with the idea of bookmark-bracelets. I wear them on my wrist as I read, so I never forget that I set them down on the table, or so that it won't get blown away by a stray gust of wind. Never lose another bookmark again!

This bookmark can be used to mark a group of pages, as well as just the place you left off. Very easy to adjust the length to fit any book–just make sure to chain the appropriate number of chains in the beginning. There are two sizes in the pattern, one for 7-inch tall books (pink), and the larger for 8.5-inch tall books (red).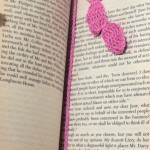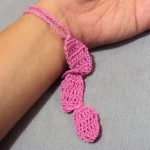 | | |
| --- | --- |
| Skill Level: | |
Finished size: 7″ (8.5″) tall (excluding petals)
Materials:
Size 10 thread (one ball makes a lot)
No. 2 (1.5 mm) crochet hook
Gauge:Â Not important.
Crochet Pattern: Pressed Petals Bookmark
Ch 100 (130) — or make a chain twice the length of your book, being careful to not twist the chain, sl st to first ch.
Petal 1
Row 1: Ch 3 (counts as 1 dc here and throughout), 4 dc into loop, turn: 5 dc
Row 2: Ch 3, dc in first dc (increase made), dc in next 3 dc, 2 dc in last dc, turn: 7 dc
Row 3: Ch 3, dc in each dc across, turn: 7 dc
Row 4: Ch 2, sk first dc, dc in next 3 dc, dc2tog, turn: 5 dc
Row 5: Ch 3, sk first dc, dc3tog, ch 3, sl st on top of last dc of previous row, turn: 3 dc
Do not finish off.
Petal 2
Row 1: Ch 3, 4 dc in same stitch: 5 dc
Rows 2-5: Repeat rows 2-5 of petal 1
Petal 3
Rows 1-5: Repeat petal 2
Finish off and enjoy! If you need any help, just leave a comment here and I'll get back to you when I can.