Drop Everything And Read, Crochet Bookmark Round-Up
By Caissa "Cami" McClinton –
1 Comment
April is here, and spring is in the air. As you may know, I like to keep track of interesting holidays and observances. Any reason to crochet is a good one. I recently found out that April is known as "Drop Everything And Read," or D.E.A.R. Month. Here on Crochet Spot, we have a number of great bookmark patterns. I've rounded them up here (and I've even included a bonus book cover pattern).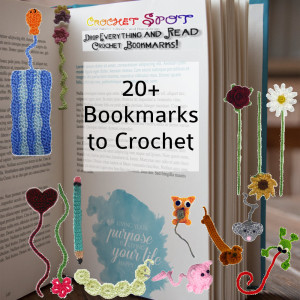 Rachel has designed some cute bookmarks that look like animals, hearts, and flowers. Try the Heart Bookmark, aFast Flower Bookmark, or a cute Fish in the Ocean bookmark. For more detailed patterns, try the Flower Bookmarks or the adorable Animal Bookmarks.
Erin designed a Posies in a Row bookmark, which is perfect for spring.
Emily calls to mind elementary school with her pencil and bookworm bookmark patterns.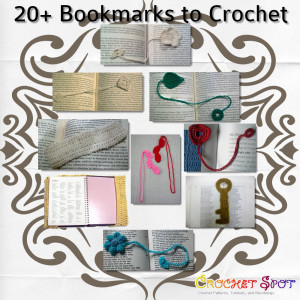 Claire did a cool design with her Pressed Petals bookmark and she even designed a book cover as well.
Candace is the bookmark queen, with all of her contributions. They are varied and interesting. It's also cool to see what she's reading in the accompanying pictures! 🙂 I think the Easy Bookmark is simple to make but appealing as well. For a similar style, try the Lacy Tunisian Bookmark. The Key to Knowledge Bookmark takes the style to the next level.
The following bookmarks use a chain with interesting crocheted pieces on the ends to form the bookmarks. Practice triangles with Tripoint Bookmark and Open Triangle Bookmark. Use squares to your advantage with the Two Square Bookmark. For a botanical book vibe, try Puffy Flower Bookmark, Floral Bookmark, or the Leaf Bookmark.
So what about you, my friends? Has this round-up inspired you to drop everything and crochet? Which bookmarks will you try? Please leave your thoughts, ideas and questions in the comment section below.