Crochet Pattern: Short and Simple Heart Scarf
By Erin Burger –
11 Comments
The easy and fun pattern is for a neck tie scarf, which mean it ties around the neck one time. You can add as many rows as you want, following the given pattern, to reach the length you want for your scarf. This scarf would be a great gift for a teen in your life, or a daughter/friend of any age! The pictured scarf was made for my ten year old!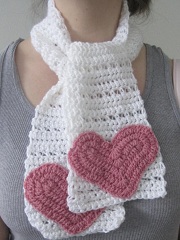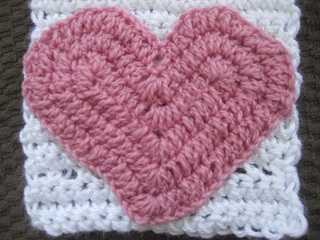 | | |
| --- | --- |
| Skill Level: | |
Finished Size: 38″ (96.52 cm) long and 4 3/4″ (12.06 cm) wide
Materials:
approx. 35 yards of DK weight yarn
Crochet Hook J (6.00 mm)
For Hearts: small amount of fingering weight yarn
E hook (3.50 mm)
Gauge: not needed for this pattern

Need help understanding the abbreviations and symbols? Check out the crochet abbreviation chart!
Crochet Pattern: Short and Simple Heart Scarf
Row 1: ch 18, sc in 2nd ch from hook and in each ch across: 17 sc
Rows 2 – 3: ch 1, turn, sc in each sc across: 17 sc
Row 4: ch 1, turn, sc in first sc, (ch 1, skip next sc, sc in next sc) across, ending with a sc in last sc: 9 sc, 8 ch
Row 5: ch 1, turn, sc in first sc, (sc in next ch, sc in next sc), across: 17 sc
Rows 6 – 7: ch 1, turn, sc in each sc across: 17 sc
Continue repeating Rows 4-7 until your scarf measures 38 inches long
The applique sewn on each end of the scarf is from this pattern here: Sweetheart Valentine Heart, with just Rows 1-3, fingering weight yarn and an E hook. Leave a tail approx. 12″ long for sewing.
Tips for sewing on your applique hearts:
1) Pin your heart with the bottom point right above the center middle of the end of the scarf and both lobes at around the 14th row from end or however it looks best to you.
2) Put your needle through the heart and through half of the scarf then bring it back up along the heart and under it. This way the yarn won't show on the opposite side.
3) Pull your heart into it's shape every few stitches so it won't bunch up during sewing.
Finish off, weave in all ends. Make it pretty!
Loved this scarf and want to show us your end result, don't be shy! 'Like' Crochet Spot on facebook and share the photos of your finished project! Have any questions or comments don't hesitate to share here!