Crochet Pattern: Single Crochet Sampler Placemat
By Rachel Choi –
Be the first to comment
Almost everyone who starts off crocheting learns the basic single crochet stitch. But did you know that it can be used in many different ways to create brand new stitches? Using only single crochet and chain stitches, this placemat pattern contains 4 different stitch patterns for you to try. The placemat is crocheted all in one piece, changing stitch patterns as you go. When you're done crocheting your placemat, it'll be full of different textures and colors. Whether you're a crochet newbie or a veteran, you'll have 4 stitch patterns to add to your crochet arsenal.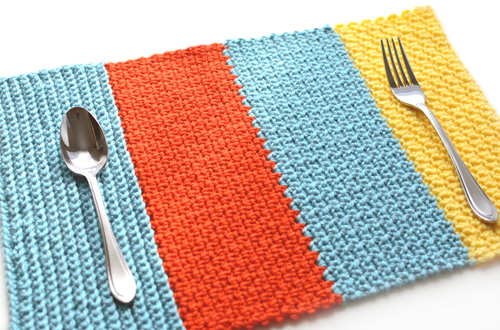 Click here to see full pattern details!
All purchases help to support Crochet Spot and are greatly appreciated! Please log in or create a new account at the Crochet Spot Store to purchase this pattern. Premium Pattern Members may log into the store and download the pattern for free.