Crochet Pattern: Solid Granny Square Blanket
By Rachel Choi –
Be the first to comment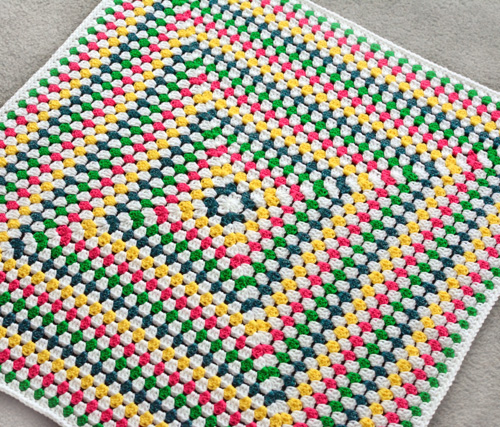 This crochet pattern was requested by a Crochet Spot reader!
Here is a granny square pattern that gives you the classic granny square look, but without the extremely large holes and gaps between stitches. This pattern creates a more solid fabric since it does not use chain spaces like a traditional granny square blanket. Although the blanket isn't completely solid, it is more suitable for babies and kids since the "holes" are much smaller. The blanket is crocheted in the round from the center out. It is designed as one giant square that will not warp or distort in shape like a lot of other patterns that are crocheted in the round. Easily customize the blanket to be any size desired by crocheting more or less rounds. As a bonus, the pattern includes a step-by-step photo tutorial.
Click here to see full pattern details!
All purchases help to support Crochet Spot and are greatly appreciated! Please log in or create a new account at the Crochet Spot Store to purchase this pattern. Premium Pattern Members may log into the store and download the pattern for free.