Crocheting the Universe – Can You Really Make Everything?
By Veronica Smith –
27 Comments
You have crochet patterns and more patterns and then some 'just in case' patterns. You have books, leaflets, ones you have printed from the internet, free ones, purchased ones and websites bookmarked for future reference. You kid yourself that you are going to organize them – how, you are not sure and the space on the bookcase is now too small.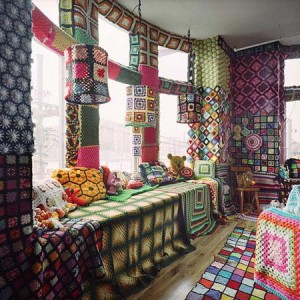 You never imagined that you would have so many patterns, and quite frankly I blame the internet. Those of us that were around pre-internet only had a few books and pamphlets, they were expensive and we needed the money for the yarn. The patterns available were basic. Now patterns are available for anything that you have a noun for and then some.
So, to my point, can you really crochet everything? The answer is that you CAN because there are patterns for everything. Just a few I have thought of: cushions, decorations, throws, bedspreads, afghans, curtains, toys, hair ties, cup holders, little things to embellish existing things, fridge magnets, pretend food items, headbands, slippers, clothes, mats, hats, scarves, Christmas stockings, baskets, lampshades, toilet seat sets, car and bike cozy's, teapot covers and tissue box covers. And so on… And this is good, great in fact, but how many do we need? They make excellent gifts though.
But do you WANT to crochet everything? I love yarns of all types, and want to make things, especially when I see a new pattern. I of course need one of those things, even if I don't know what it is. It is crochet, so I need it. However, with all I have listed above, plus the things I haven't, you can actually get a pattern for them. Do I actually want all these things surrounding me 24/7? Would you actually 'see' them? Everything would be a bit cluttered and you would not appreciate specific pieces.
So the answer to the question is that you most definitely CAN crochet the universe, but I don't want to, I don't think. Or do I?
Am I alone in thing that?
Apologies to anybody that has crocheted their house and its contents. I'm just not sure it is for me.