Crocheting With Wire
By Candace –
6 Comments
A lot of crocheters make jewelry, too, and there are many wonderful pieces out there like beaded ropes and bracelets and necklaces made with thread. For those who want to use metal in their crochet jewelry, wire is the way to go. However, there are many considerations to take into account when making crocheted wire jewelry.


If you're going to crochet with wire, you need the right hooks. Wood and plastic get damaged easily, so metal is best. Since the wire is such a fine material, you may want to use steel crochet hooks for a lot of your work.
The wire can be hard to work with, and it might be hard to understand what kind to purchase. You may want to use different gauges of wire depending on the look you want and the hardness of the wire. The higher the gauge of the wire, the thinner it is. Look at this 18 gauge copper wire as compared to the 30 gauge silver tone wire.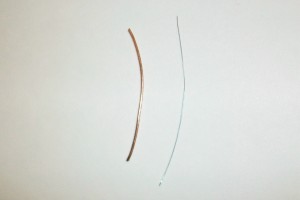 In addition, jewelry wire comes in different hardnesses. Dead soft is the softest wire, which makes it easier to crochet with, however, it does not hold its shape as well as harder wires. Half hard is mid-range in hardness; it holds its shape well and is good for making clasps and ear wires to finish your crocheted jewelry with. Full hard is the hardest, and it is difficult to work with using jewelry tools, let alone crochet hooks. If you need to harden your wire you can always work harden it by running it through nylon jaw pliers before working with it or using various finishing tools such as mallets or tumblers after you have completed your project.
If you just want to play around and practice stitches with wire, you may want to use wire from a hardware store and save the jewelry wire for an actual project. The jewelry or artistic wire is often more expensive than the hardware store wire, even when they are made of the same materials.
Making jewelry with wire gives you options that thread doesn't. You can bend and shape the finished piece however you want for a unique look. It also allows for bigger pieces that keep their structure and don't flop around.
Remember that wire behaves much differently from yarn, and you may need to turn to other tools to get things to work right. If that adjustable ring isn't working out, try using pliers to pull it shut.
Also remember to tuck in the ends of your wire. Nobody wants to be poked, and the sharp ends can break skin.
Have fun crocheting and experimenting with wire! If you've crocheted with wire beofre, feel free to leave your experience and advise for others in the comments below!