Different Ways to Crochet in the Round
By Claire Ortega-Reyes –
48 Comments
When crocheting in the round, there are two different ways to progress through rows. At the end of each row, we can join the last stitch to the first by making a slip stitch at the top of the first stitch (the "traditional" way); or we can continue working on to the next round by making the first stitch for the next round on top of the first stitch of the row below (working in a spiral).

Let's compare the two methods. I made a circle all in half double crochet, following the same pattern for both swatches, but joined differently at the end of the rows:
| | |
| --- | --- |
| "Traditional" Way | Working in Spiral |
| There's a slightly visible line in the work, where the ladder stitches are (in this case, the ch 2 that substitutes for one hdc stitch). | There are no visible lines in the work, since no ladder stitches have to be made. This also makes for a more solid construction. |
| Shape is more uniform. If you're crocheting a circle or a square, it looks like a circle or square at the end of each round. | After the end of each round, the last stitch sticks out from the rest–you'd have to join it to the first stich(es) of the previous round to make it uniformly-shaped. |
| Stitches are easy to count and check for each round. | Beginners have to use stitch markers (see below) to keep track of the work. |
| If the pattern calls for stitches in varying heights, it would still come out uniformly-shaped. | When using a pattern with stitches of varying heights, the work may come out warped. |
What Are Stitch Markers?
Stich markers are used to keep track of stitch counts, or your progress in a pattern. It can also be used to secure the hanging loop in your crochet work when you set it aside to do something else, to prevent the work from unraveling. Craft stores sell a lot of various kinds of stitch markers–everything from your basic plastic ones to fancy gem-laden ones.
When working in spiral, it's going to be a little difficult to keep track of where you are in the work (unless of course you have an outstanding memory!). So we put stitch markers either at the end of each round, or in the first stitch of each round, so we know where we are. This way, we can check the number of stitches for each round.
I'll tell you a little secret: you don't have to spend anything at all to be able to mark your work! I actually don't own a single one they sell at craft stores. I use everyday stuff like paper clips, safety pins, orphaned earrings, or even a piece of discarded yarn.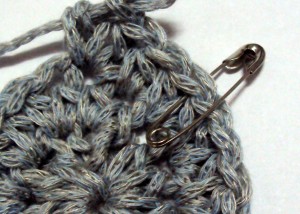 They're categorized as "accessories" in craft work because you don't actually need to buy them. Alternatives abound everywhere!
I hope that was helpful. If you have any questions, just leave a comment below and I'll get back to you when I can.