Every Which Way Crochet Borders Book Review, Free Pattern, and Giveaway
By Rachel Choi –
131 Comments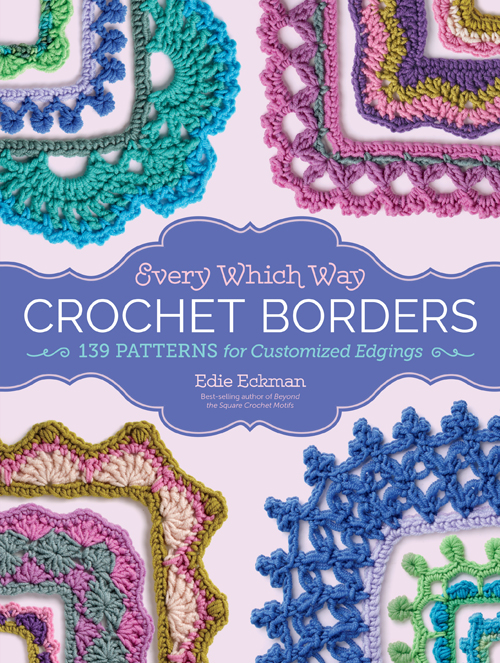 I'm so excited to be apart of the blog tour for Every Which Way Crochet Borders – 139 Patterns for Customized Edgings by Edie Eckman. In this post I'll start with a complete review of the book with my honest option so that you can decide if the book is right for you. Then I'll include a free pattern excerpted from the book (thank you Storey Publishing). Finally, there will be a free giveaway for you to enter to win a copy of the book. This will be a loooooong post, so feel free to jump around to any section that interests you!

Book Review
As the title states, Every Which Way Crochet Borders contains 139 border patterns. Holy moly! That's probably more border patterns than you will ever use in your lifetime. The variety of patterns to choose from has a wide range, from reversible, wide, narrow, layered, motifs, textured, or even fringy. The collection is like none other. If you need a pattern to finish off your blanket or other project, it's probably in this book.
Book Layout
Like most books, it starts with general information that most people tend to skip over. This includes suggestions on how to choose your yarn and color, customizing the borders, working around different fabrics, working around corners or other odd shapes, and stitch count. I would recommend at least skimming through the beginning section before getting starting on the border patterns, or come back to these tutorials if you run into any problems while crocheting the borders. 139 patterns make up the body of the book (more on this later). Jump to the appendix of the book if you don't want to flip through all 139 pages to choose a pattern. The appendix contains a 4 pages photo directory of all the crochet patterns and has a table of attributes so that you can choose a pattern based on reversibility, width, and other fabric characteristics. You can also find other tutorials, such as how to read the crochet patterns and symbols.
The Patterns
As a pattern writer, I've come across a lot of patterns that are well written and a lot that are not. I'm happy to say, the patterns in this book are well written and edited. Not all of the crochet patterns are easy to crochet though. Depending on someone's skill level, some patterns will naturally be more difficult to understand if they are complex. Fortunately, every pattern has a stitch diagram with symbols. So even someone who doesn't enjoy reading patterns or perhaps doesn't read English, can crochet the pattern as long as they understand the diagram.
See the free crochet pattern excerpted from the book below to get an idea of the pattern writing style. You can also sneak peak a bunch of patterns from the book for free by going to Amazon and using the "Look Inside" feature and also clicking on the sample photos provided.
Is This Book For You?
Yes, if you can use a well written book that contains a lot of border patterns. The book has plenty of variety to choose from. No, if you do not use border patterns often. I would recommend the book for someone who has previous experience with crochet. Although the book contains tutorials for crocheting, it does not have a "how to crochet" section for absolute beginners. Most of the patterns seem to be at an intermediate to advanced skill level, with a few at an easy skill level.
Free Crochet Pattern
This border pattern is #32 in the book. I really like this pattern because of the whimsical colors used in the sample photo and it is a great design for items you want to add a lacy feel. You can crochet it with 3 different colors, like in the sample, or use one color for a solid border. Thank you Storey Publishing for letting us publish this pattern on the blog!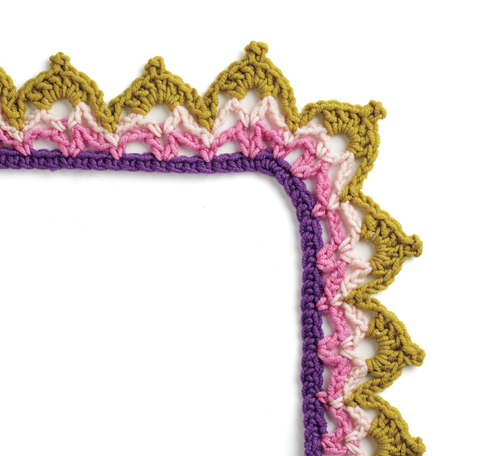 Stitches & Notes
Picot-3: Ch 3, slip st in third chain from hook.
V-st (V-stitch): (Dc, ch 1, dc) in st or space indicated.
Base rnd, each side: Multiple of 6 + 3 + corners.
Begin 5Â sts to left of corner st.
Rnd 1: Ch 1, sc in first st, ch 3, skip 2 sts, *V-st in next st, [ch 3, skip 2 sts, sc in next st, ch 3, skip 2 sts, V-st in next st] to 1 st before corner, ch 3, skip 1 st, sc in corner st, ch 3, skip 1 st; rep from * around, ending last rep V-st in next st, ch 3, skip 2 sts, join with slip st to first sc.
Rnd 2: Ch 1, sc in same st, *ch 3, (dc, ch 3, dc) in center of next V-st, ch 3, sc in next sc; rep from * around, omitting last sc, join with slip st to first sc.
Rnd 3: Ch 1, sc in same st, *ch 3, skip ch-3 space, (3 dc, picot-3, 3 dc) in next ch-3 space, ch 3, sc in next sc; rep from * around, omitting last sc, join with slip st to first sc. Fasten off.
Click on the image for a larger view!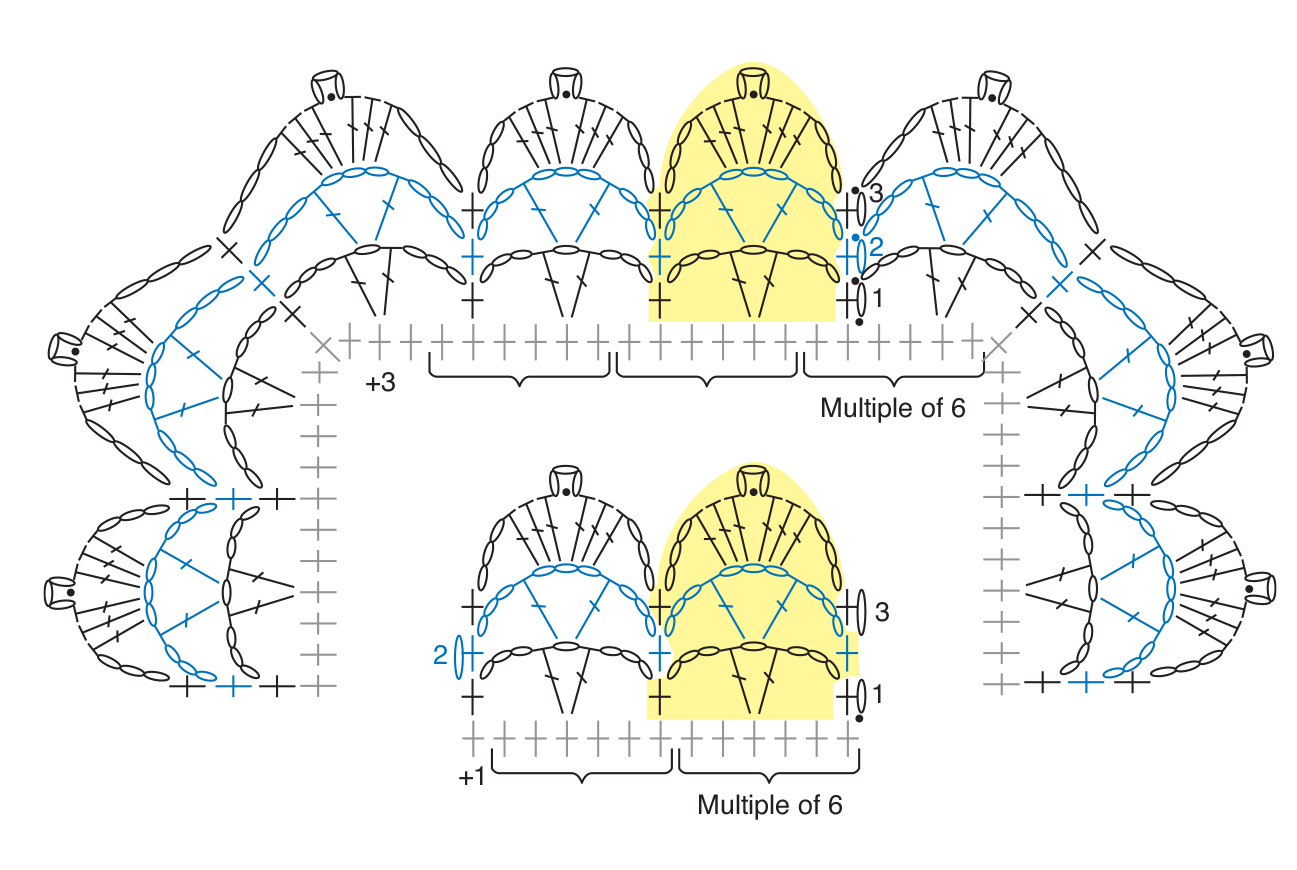 Excerpted from Every Which Way Crochet Borders © by Edith L. Eckman. Photography by John Polak. Diagram by Karen Manthey. Used with permission from Storey Publishing.
Giveaway
It's giveaway time!!! If you're excited about having your own copy of Every Which Way Crochet Borders then you're in luck to win a free copy. Here is how to enter:
To enter into the giveaway, simply leave a comment below on this post.
Please only 1 entry per person, as multiple entries will be deleted.
This giveaway is restricted to the U.S. since the book will be mailed directly from Storey Publishing.
A winner will be randomly selected on March 1, 2017.
Good luck everyone!
P.S. You can also enter to win this book by following the blog tour! Other blogs on the tour will also have giveaways, so feel free to visit them too.