Book Giveaway: Blueprint Crochet Sweaters
By Rachel Choi –
92 Comments
Yay! I just got an extra copy of Blueprint Crochet Sweaters: Techniques for Custom Constructions. You know what that means…time for another book giveaway! This book is full with modern, beautiful sweater patterns, it's hard to choose which one to start first. The sweaters are also constructed using different methods, so there is a lot to learn about sweater construction! If you're interested in crocheting different types of sweaters, this book is definitely for you.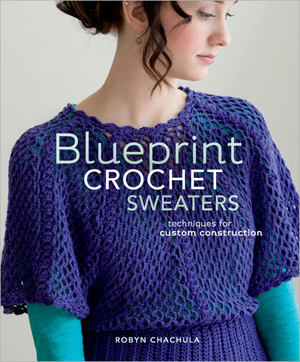 To enter the giveaway, for a free copy of Blueprint Crochet Sweaters:
Go to the Blueprint Crochet Sweater Amazon.com page and click on the "Look Inside This Book" link to look inside the book.
Then in the comments section on the bottom of this post, share with us which project/type of sweater you're most excited about starting! Remember to only comment one time (since there is only one entry per person). Duplicate comments or comments that are not on topic will be deleted.
Giveaway ends on Wednesday, May 7, 2014 at 11:59PM EST, where a winner will be randomly selected. Be sure to check back to see if you win!
Have fun looking through the book and good luck everyone!!
This giveaway is now closed. The winner is announced on the Book Giveaway Winner: Blueprint Crochet Sweaters page.