Free Crochet Pattern: Prairie Poncho
By Claire Golden –
2 Comments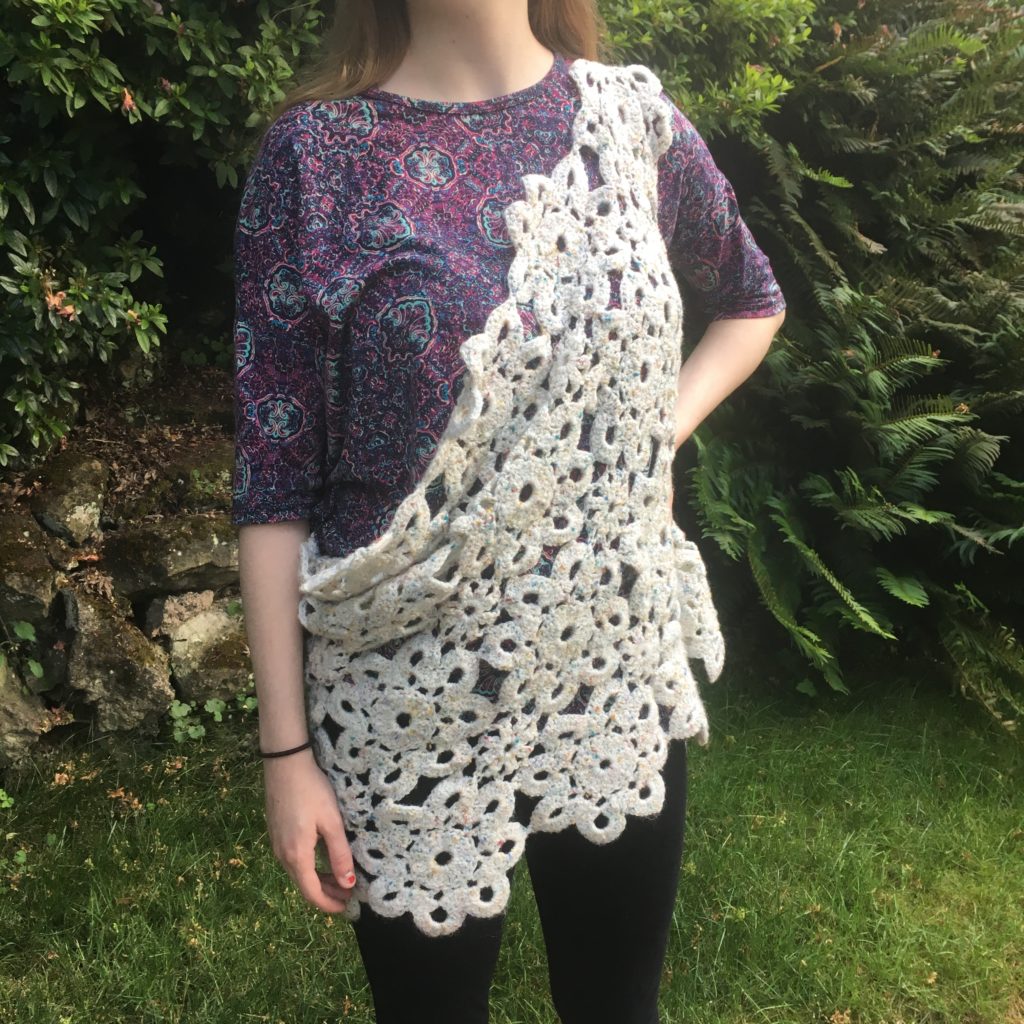 I really enjoy crocheting things I see on TV or in movies. It's great for inspiration and it's fun to wear what your favorite characters wear. The main character, Prairie, on Netflix's original series The OA wears a crochet poncho in one episode, and I wanted to make one for myself. The finished poncho is asymmetrical and made of lacy flower motifs joined together as you go. It's a perfect layering piece for the changing springtime weather where I live. Because the poncho is meant to be oversize, the pattern is written for one size, but I included directions on how to easily make it larger. I hope you enjoy this pattern, and let me know if you like this show too!
| | |
| --- | --- |
| Skill Level: | |
Finished Size: One size fits most adults and is meant to be loose and drapey. The pattern is easy to adjust to be larger or smaller by adding or subtracting flowers, although please note the yardage will change. Simply add/subtract flowers lengthwise and widthwise. To make the armhole bigger, leave 2 flowers unjoined instead of 1.
Materials:
Medium Weight Yarn (approximately 1000 yards)
Crochet Hook H (5.00 mm)
Gauge:
Rounds 1 – 2 of Prairie Flower Motif measure 3.5″ (9 cm) in diameter.
Need help understanding the abbreviations and symbols? Check out the crochet abbreviation chart.
Crochet Pattern: Prairie Poncho
Note: The poncho is worked in motifs (called "Prairie Flowers" here). The first motif is worked completely and the subsequent ones are joined as you go. When the Prairie Flowers are complete, small connecting circles are worked in the large gaps between the flowers.
Prairie Flower Motif
Round 1: ch 8, sl st in first chain to form a ring,ch 4 (counts as 1 tr), 29 tr into ring, sl st to fourth ch of beginning ch-4: 30 tr
Round 2: ch 6 (counts as 1 dc and 3 ch), dc in first tr, *ch 1, skip 2 tr, (dc, ch 3, dc) in next tr * repeat from * around, ch 1, sl st to third ch of beginning ch-6: 12 dc
Round 3: ch 2 (does not count as a st), *(2 dc, ch 5, 2 dc) in next ch-3 space, dc3tog (work the dc3tog over next dc, ch-1, and dc) * repeat from * around, (the last dc3tog will be squeezed into the same space as the starting chain) sl st to first dc3tog: 6 ch-5 spaces
Round 4: *(6 dc, ch 3, 6 dc) into next ch-5 space, sc in dc3tog * repeat from * around, sl st in first dc: 8 petals
Finish off and weave in ends.
Photos clockwise from top left: end of Round 1, end of Round 2, closeup of dc3tog, flower being joined.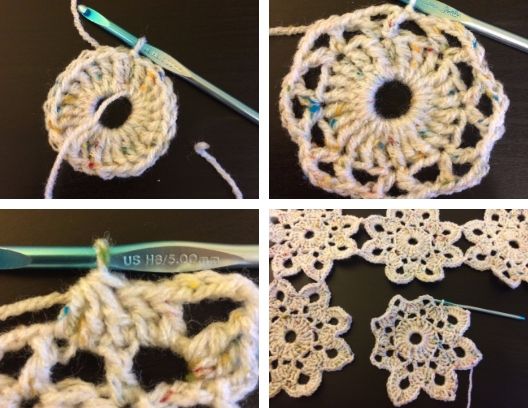 Joining
Work Prairie Flower through Round 3. Round 4 is a joining round.. The motifs are joined at the chain-3 in the petals. To join, omit the chain-3 and instead work a sc in the chain-3 space of the Prairie Flower you're joining to. Then continue working the rest of the petal. Repeat as necessary to join the rest of the motif.
Join the flowers according to the diagram below (illustrating the size small). Then add connecting circles as shown in the second diagram.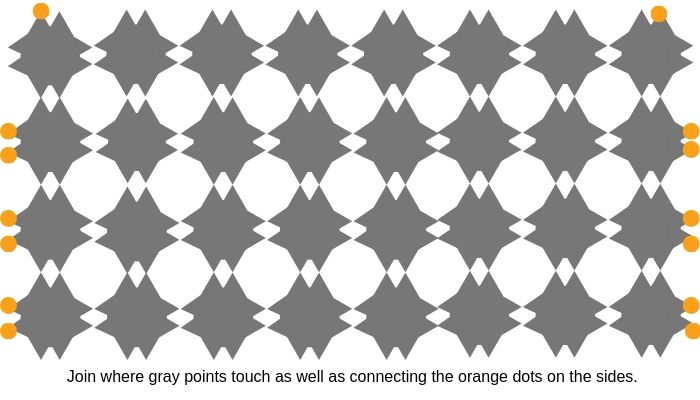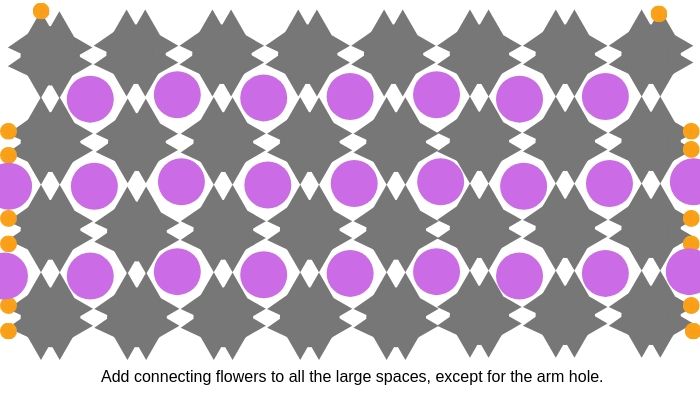 Connecting Circle
The spaces you will be joining to are the petals of the flowers. Each petal has 6 dc on each side. You will be joining with a sc between the middle two dc.
Cluster = *yarn over 2 times, pull up a loop, (yarn over, pull through 2 loops on hook) two times, repeat from * 1 more time, yarn over and pull through all 3 loops on hook.
Ch 4, sl st to first ch to form a ring
Ch 3, tr into ring (counts as first cluster), ch 1, join with sc to next petal, ch 1
*make a cluster into the ring, ch 1, join with sc to next petal, ch 1, repeat from * until you have joined to 8 petals.
There will be 8 clusters total. Sl st to first tr, finish off and weave in ends.
Photos clockwise from top left: First cluster made, closeup of petal and where to insert hook, joining sc completed, closeup of finished join.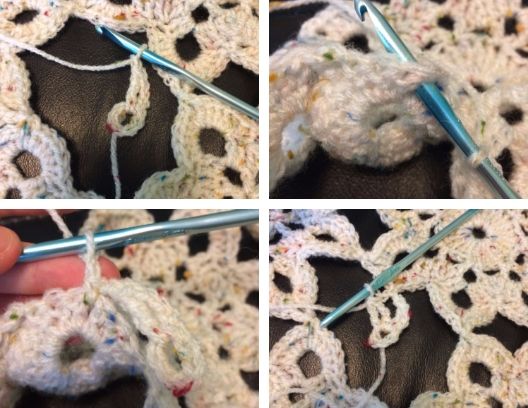 Need help while crocheting? Feel free to leave a comment below and I'm happy to help!