Crochet Pattern: Simple Six Petal Flower
By Erin Burger –
36 Comments
This flower is much like the darling posy applique but is larger and can also be used as a motif for afghans, scarfs, table runners, jewelry and more. Motifs like this are also great ways to get rid of scrap yarn! Make up a bunch to decorate a blanket, one to add the cute element to a baby beanie or make a dozen or so and whip stitch them together for a belt or a bracelet.
Pictured are three of these simple six-petal flowers, the grey one was done in DK weight yarn with an H hook, the red one in sport weight yarn with a G hook and the black one in fingerweight yarn with a E hook.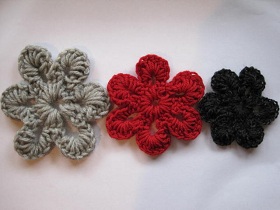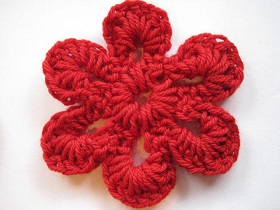 | | |
| --- | --- |
| Skill Level: | |
Finished Size:DK weight flower measures 4″ (10.16 cm) X 4″ (10.16 cm), sport weight flower measures 3 1/2″ (8.89 cm) X 3 1/2″ (8.89 cm), fingering weight flower measures 3″ (7.62 cm) X 3″ (7.62 cm)
Materials:
small amounts of yarn, depending on which size you choose to make
Crochet Hook H (5.00 mm), G (4.5 mm), E (3.5 mm)
Gauge: changes for each size flower
Need help understanding the abbreviations and symbols? Check out the crochet abbreviation chart!
Crochet Pattern: Simple Six Petal Flower
Round 1: ch 8, sl st in first ch to form a ring, ch 3, dc into ring, (ch 6, 3 dc) 5 times into ring, ch 6, dc into ring, join with sl st in top of beg ch-3: 16 dc, 6 ch spaces
Round 2 : [ch 1, skip dc, (sc, hdc, 7 dc, hdc, sc) in next ch-6 space, ch 1, skip dc, sl st in next dc] around, ending with sl st in top of beg ch-1: 12 sc, 12 hdc, 42 dc
Finish off.
Have any questions or comments about this cute flower? Please don't hesitate to comment here!