Free Crochet Pattern: Retro Chevrons Tablet Cover
By Amy Yarbrough –
2 Comments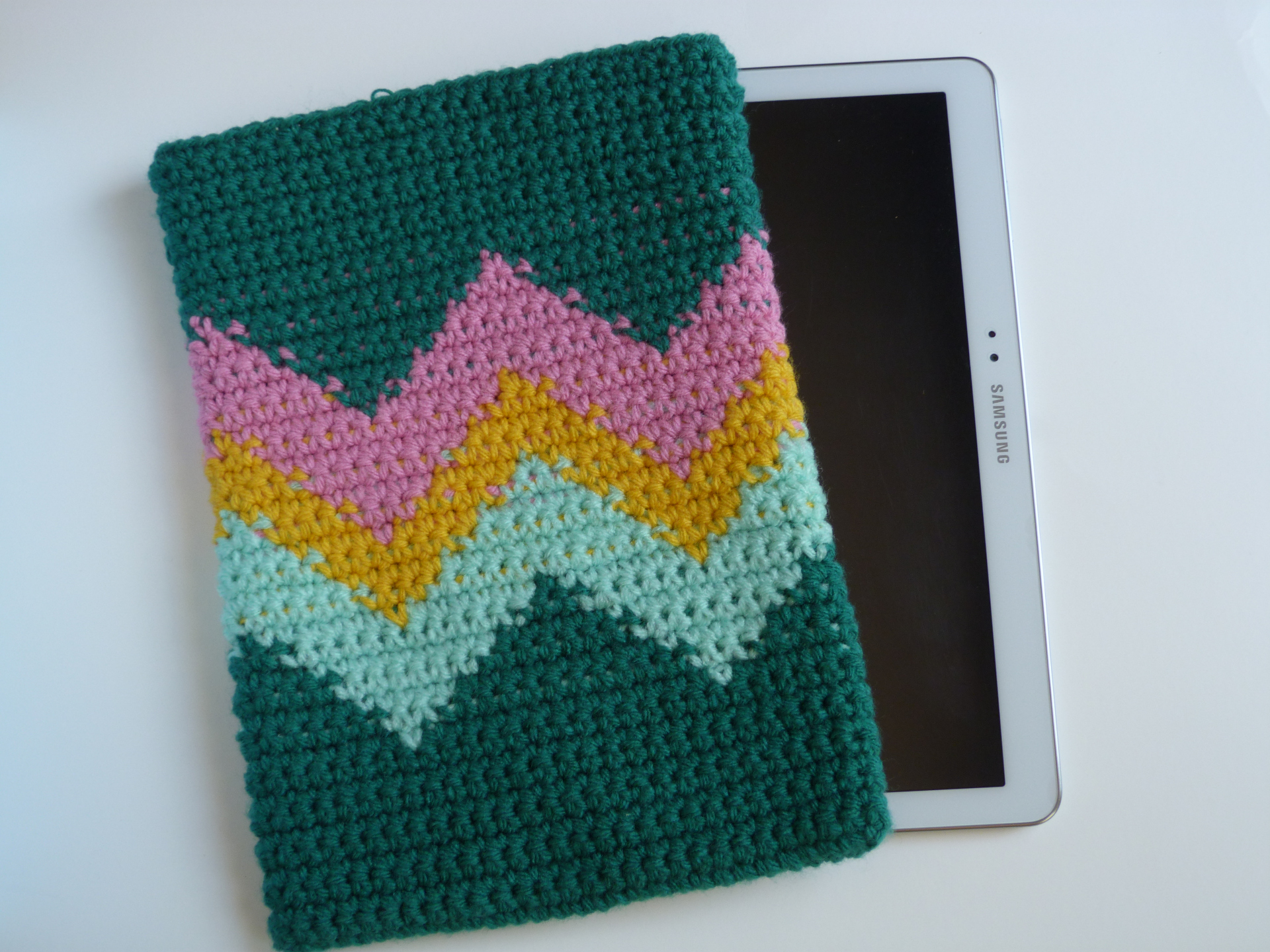 I don't know about you but I'm always feeling the retro vibes. However, I didn't quite plan for it in this pattern. I merely decided on a very basic tapestry crochet design and found a few colors that really seemed to pop. While I was making it I realized how retro it was and found myself thinking about all the ways I could use this color pattern/design in other creations.
I think making your own tablet cover is the perfect way for crocheters to accessorize the techy things that they have. Like the Beachrock Tablet Cover, this one is basic and a great chance to play with color.
Follow along with the graph to crochet this chevron color pattern and be sure to read the Color Pattern Notes to best understand what to do. And as always, keep crocheting!
| | |
| --- | --- |
| Skill Level: | |
Finished Size: 7" (18 cm) wide, 10" (25.5 cm) long, 3/4" (2 cm) height (fits tablet dimensions of 6 3/4" (17 cm) by 9" (22.5 cm)
Materials:
Medium weight yarn (approximately 40 yards of color A, and 25 yards of colors B, C, and D)
Crochet hook (4.50 mm)
Yarn needle
Gauge:
4 sc = 1''
4 rows = 1''
Gauge Swatch: 1''w x 1''h (2.5 cm x 2.5 cm) ch 5.
Row 1: sc in second ch from hook and in each ch across: 4 sc
Row 2 – 4: ch 1, turn, sc in each sc across: 4 sc
Finish off.
Need help understanding the abbreviations and symbols? Check out the crochet abbreviation chart.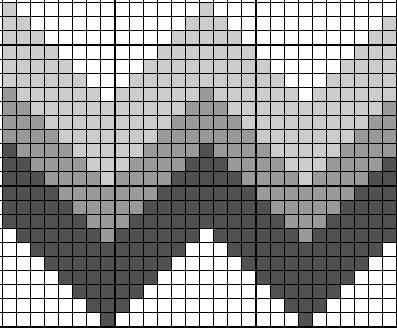 Color Pattern Notes
– Graph starts at Round 12, start from right to left (or vice versa if you are left handed) as with most graphs and reverse when you turn for the next round.
– The graph shows half the color pattern you will be doing for the entire cover. On each round, repeat the graph once more for the opposite side of the cover.
– White stands for color A, darkest gray stands for color B, and colors C and D follow.
– Be sure to carry your yarn along as you crochet for easy color changes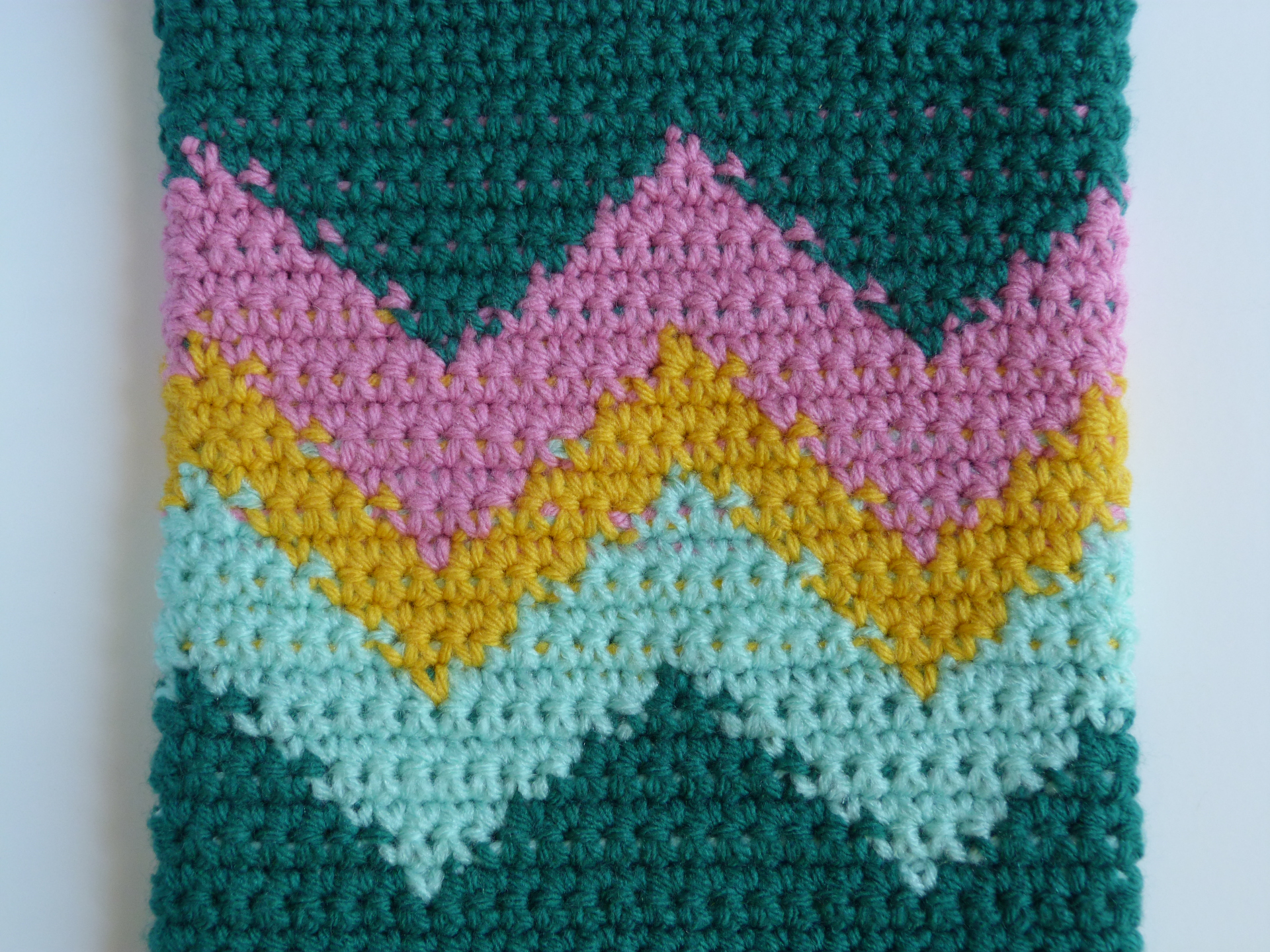 Crochet Pattern: Retro Chevrons Tablet Cover
Round 1: with color A, ch 28, 3 sc in second ch from hook, sc in each sc across until 1 sc remains, 3 sc in last ch, turn to work on the opposite side of ch, sc in each ch across, sl st in first sc: 56 sc
Round 2 – 11: ch 1, turn, sc in each sc around: 56 sc
Rounds 12 – 34: ch 1, turn, sc in each sc around, changing colors according to color graph: 56 sc
Round 35 – 43: ch 1, turn, sc in each sc around: 56 sc
Finish off.
Be sure to leave me a comment letting me know what you think! And if you have any questions, or run into any problems, don't hesitate to ask!