Free Crochet Pattern: Water Bottle Cozy
By Rachel Choi –
Be the first to comment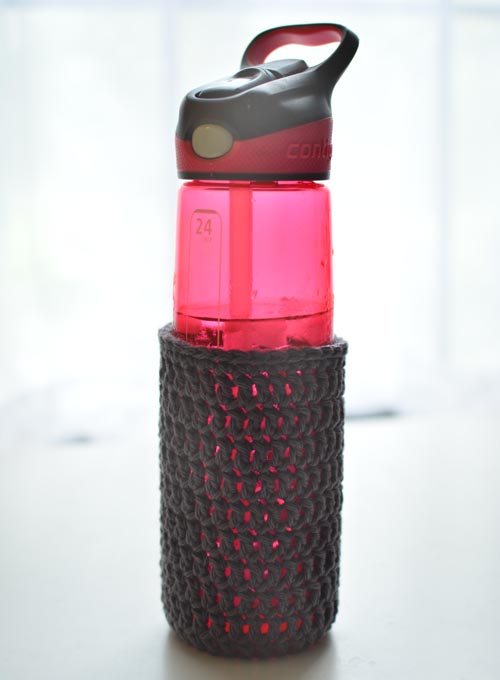 There's nothing more refreshing than a nice cold bottle of water on a summer day! The only down side of a cold bottle of water is the bottle "sweat" that gets everywhere. Crochet this easy cozy to absorb the moisture and help keep your cold bottle insulated. The cozy is adjustable for different bottle sizes, just follow the instructions within the pattern to customize the size.

| | |
| --- | --- |
| Skill Level: | |
Finished Size: 3 1/4″ (8 cm) wide, 1 3/4″ (4.5 cm) tall
Note: Cozy can be made to fit any bottle size. Use the instructions within the pattern to adjust the size if needed.
Materials:
Medium Weight Yarn (approximately 50 yards)
Crochet Hook I (5.50 mm)
Stitch marker (or safety pin, or scrap of contrasting yarn)
Gauge: Rounds 1 – 3 in pattern measure 2 3/4″ in diameter
Need help understanding the abbreviations and symbols? Check out the crochet abbreviation chart.
Crochet Pattern: Water Bottle Cozy
Rounds 1 – 5 will create a flat circle. This flat circle should have the same diameter as the bottom of the water bottle. If needed, subtract or add more rounds to create the circle size that fits your bottle.
Round 1: ch 2, 6 sc in second ch form hook, place marker: 6 sc
Round 2: 2 sc in each sc around: 12 sc
Round 3: (2 sc in next sc, sc in next sc) around: 18 sc
Round 4: (2 sc in next sc, sc in next 2 sc) around: 24 sc
Round 5: (2 sc in next sc, sc in next 3 sc) around: 30 sc
If more rounds are needed for a larger circle, increase the number of stitches in the second part of the parentheses by 1. For example, the next round would be "(2 sc in next sc, sc in next 4 sc) around: 36 sc" and the round after that would be "(2 sc in next sc, sc in next 5 sc) around: 42 sc"
Once the circle is the correct size for your bottle, continue with the remainder of the pattern. Note that if you adjusted the size of the circle, the stitch count for the following rows will also be adjusted.
Round 6: dc in each sc around: 30 dc
Round 7: dc in each dc around: 30 dc
Repeat row 7, 8 more times or until the cozy is as tall as desired.
Round 8: hdc in next dc, sc in each dc around: 30 sts
Round 9: sl st in each st around: 30 sl st
Finish off.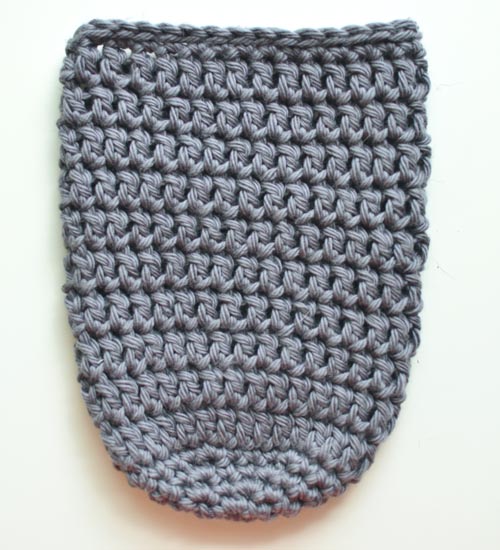 Need help while crocheting your cozy? Leave your questions below!
Check out more free crochet patterns in the Free Crochet Pattern section.