How Many Crochet Hooks Do You Need?
By Rachel Choi –
49 Comments
I used to think that I only needed one crochet hook of each size. So I started out with one of those sets with about 6 hooks in it. But then I learned my lesson when I:
Lost some – Some how things magically disappear, if you know what I mean. It's a pain when you need a specific hook for a pattern, and you just don't have it. When I want to crochet something, I want to crochet it then and there, not a day later after I go to the store to get the right hook.
Broke one – Argh! I hate this. It's one thing to not start a project because you don't have the hook, but it's another thing to end in the middle of a project because the hook broke!
Needed a plastic one to go on the plane – Just to be on the safe side, plastic or wood hooks are preferred on airplanes compared to metals hooks. I sure don't want my crochet hook confiscated because someone thinks it's a weapon.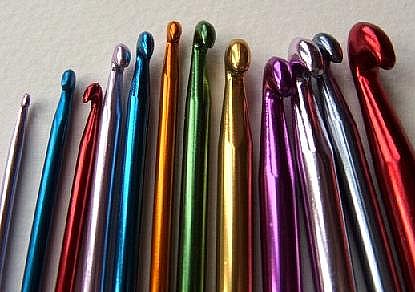 Now I've learned to have "back up" hooks. One set of hooks is aluminum, the material I like to crochet with, and the other set is plastic, great for traveling with on a plane. Then there are the tiny hooks I use for thread and the giant hook I use with bulky yarn. To date, I have about 20 crochet hooks.
How many crochet hooks do you have?