How to Crochet Around Flat Cards or Paper Scrapbook Embellishments
By Caissa "Cami" McClinton –
3 Comments
I have been so excited and inspired by art journaling and mixed media techniques! Crochet is not the only craft in my life, but I always want to incorporate it into my artwork. My major influences in art journaling and mixed media are Christine Urias, Traci Bautista, and Kathy Cano-Murillo. Aren't we lucky to have so many wondeful artists at our fingertips through the magic of the internet?
During this tutorial, I will show you how to add texture to your flat cards or scrapbook embellishments by crocheting around them. By the end of the step-by-step tutorial you will have a finished embellishment.
Materials:
Yarn
Crochet Hook
Needle
Flat card or Scrapbook embellishment. I used a free printable by Traci Bautista. It can be found
here
. I love the grunge look of the card and I chose a crochet border that complemented the distressed style.
Yarn and hook size will vary by the size of the element you're embellishing. I used Cascade Ulta Pima cotton yarn (size 3) and a 2.75 mm crochet hook.
Abbreviations:
ch – chain
sc – double crochet
rep – repeat
sl st – slip stitch
Prepping your Flat Card: Using the needle, poke holes evenly around the edges. I eyeballed it, but you could use soft pencil lines as a guide.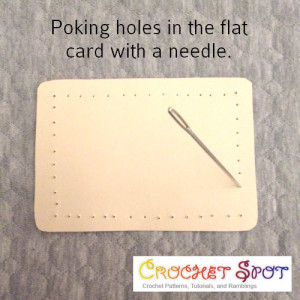 Tip: Place your card on a soft surface like a mouse pad or quilted fabric over a hard surface in order to make the hole punching easier.
Foundation: Make a blanket stitch around the card. You can consult this tutorial to become more familiar with the blanket stitch.
Blanket Stitch Tips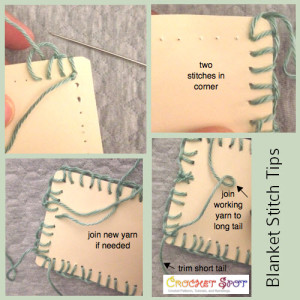 1. Make a knot on the bottom of your yarn and leave a tail so it won't pull through the card.
2. Work two blanket stitches into the corner.
3. If you run out of yarn, just attach a new piece with a knot on the back of the card.
4. To attach crochet yarn, tie a ball of working yarn to the beginning tail. Trim the tail.
You may mouse over images for left-handed views on relevant photos.
Round 1: Using the working yarn, pull up loop from behind the card.

ch 3.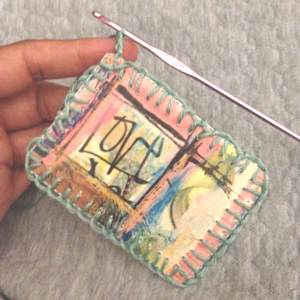 sc into next blanket stitch space, ch 3.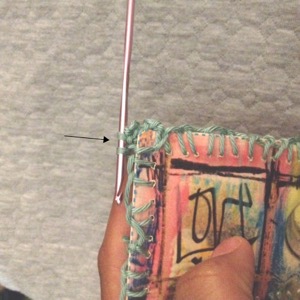 Repeat the pattern (sc into next blanket stitch space, ch 3) around the card. Join with sl st into first ch.
Finishing: Fasten off and cut yarn close to knot in keeping with the grunge aesthetic.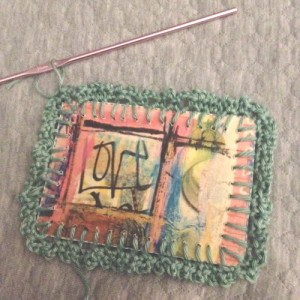 I hope you enjoy crocheting around your flat cards or scrapbook embellishments! As always, if you have any questions or need any help, please leave a comment below!