How to Crochet: Multi-Colored Stitches Part 3
By Erin Burger –
4 Comments
I think it's a fact that some stitches just scream for multi-color! This series gives instructions for stitches like these, includes photos to see what the end result look like, and suggests color sequences to best display the stitch.

Multi-Colored Ridged Ripples Stitch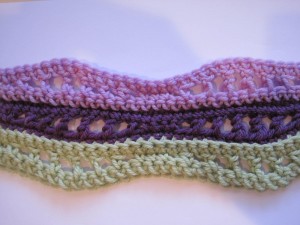 This stitch looks intricate, but is fairly simple and creates an interesting visual pattern in the form of ripples. I like to think of them as 'rolling hills'! Multi-Color works great with this stitch and in the pictured example I'm using three colors, but this would be a great stash buster if you had tons and tons of different colors to work with! Hate breaking off at the end of rows? You can carry each color up from row to row and then at the end hide those carried ends up with a border!
Each color needs 3 rows to complete the sequence. For example:
Rows 1-3: Color A
Rows 4-6: Color B
Rows 7-9: Color C
repeating this sequence until you're finished.
Start by chaining a multiple of 11, plus 1
Row 1: sc in 2nd ch from hook and in each ch across
Row 2: ch 1, turn, sc in first 2 sc, (ch 1, hdc in next sc, ch 1, dc in next sc, ch 1, tr in next sc, ch 1, tr in next sc, ch 1, dc in next sc, ch 1, hdc in next sc, ch 1, sc in next 3 sc) across, ending with a sc in last 2 sc
Row 3: ch 1, turn, sc in each st across, break off Color A
Row 4: join Color B, ch 1, turn, working in back loops only, sc in first sc and in each sc across
Repeat Rows 2-4 until desired length is reached
Have any questions or comments about this multi-colored stitch? Ask away!