How to Crochet: Multi-Colored Stitches Part 2
By Erin Burger –
13 Comments
I think it's a fact that some stitches just scream for multi-color! This series gives instructions for stitches like these, includes photos to see what the end result with look like and suggests color sequences to best display the stitch.
Little Gems Stitch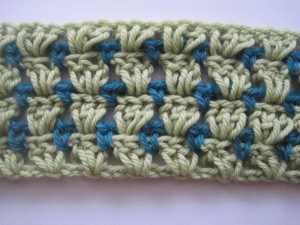 This multi-color sequence is reversible and looks great with two colors (as pictured) or with multiple colors repeating in pattern. I call this stitch 'Little Gems' because the second repeating row looks like little diamonds hiding amongst the opposite rows stitches. This stitch is great for fun scarfs, kid's washcloths and holiday themed gifts (black, orange, white etc…for Halloween, red, green, white for Christmas).
Start by chaining a multiple of 3, plus 4
The color sequence for this stitch is stated in the instructions.
Row 1: with color A, 3 dc in 5th ch from hook, (skip 2 ch, 3 dc in next ch) across until 2 chains remain, skip 1 ch, dc in last ch, do not break off Color A
Row 2: join color B, ch 1, turn, sc in first dc, sc in space between first dc and next 3 dc, (ch 2, sc in space between next 3 dc) across ending with a sc in top of beginning ch-3
Row 3: pick up color A from beginning of Row 2, join by pulling loop up in first sc, ch 3, 3 dc in first ch-2 space and in each ch-2 space across, ending with dc in last sc
Repeat Rows 2 and 3 until appropriate length is reached.
Have any questions or comments about this stitch? Comment away!