How to Make a Felted Join
By Candace –
5 Comments
When your ball of non-superwash wool yarn runs out or breaks and you don't want to deal with another end, the felted join can help. It's quick, simple, and you don't need any extra tools for it. It makes a great substitute for the Russian join if your yarn needle has gone missing. This join is commonly called "spit splicing" since you can use your saliva in a pinch, but some of us prefer to just use water.

The first thing you need to do is wet the ends of your yarn. I like to wet about an inch and a half of each end. Overlap the wet ends in your palm.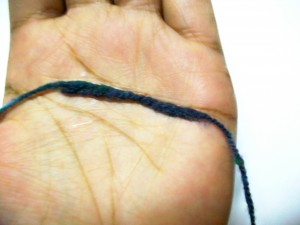 Rapidly rub your palms together back and forth. The moisture, heat, and friction causes the fibers to lock. I prefer to do it for at least a minute to be sure it's felted. It may look a little thick, but once it works up, it shouldn't stick out. If it ends up being bothersome, careful trimming and repeating the felting process can help.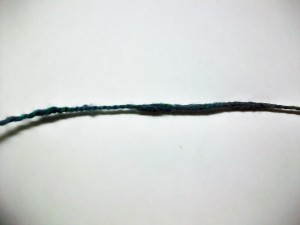 I like to let the join dry a little before I continue working, but you can work with it immediately if you wish.
If you have any questions, please leave a comment.