How to Make Pom Poms
By Rachel Choi –
38 Comments
Pom poms are easy and fun to make. All you need is yarn and scissors. Follow the four simple steps below to learn how to make a pom pom. In this example, the finished pom pom is 3 inches (8 cm) in diameter.
Step 1: Continuously wrap yarn around 3 fingers, about 100 times around
Step 2: Gently slide bundle of yarn off of hand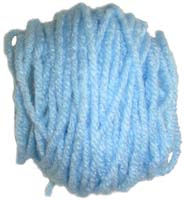 Step 3: With same colored yarn, tie bundle tightly together in the middle


Step 4: Cut all the loops on the yarn, then trim and shape as desired

To make a bigger or small pom pom, use more or less fingers in step one, as needed. To change the fullness of the pom pom, change the number of times the yarn is wrapped around your fingers.
Pom poms go great with hats and beanies. To add a pom pom to your hat or beanie, simple use a yarn needle and sew your pom pom on.
If you need help making a pom pom, just leave a comment and I will be sure to help!