How to Sort Yarn – Method 1
By Veronica Smith –
18 Comments
Yarn, thread, fibre, I don't care what you call it but it breeds. Yes, breeds, unlike the money in your savings account. If your yarn hasn't started breeding it soon will. If per chance it does not start multiplying then I have to conclude that the yarn is owned by somebody with this elusive thing called "self control".
Now this is advice for people who have breeding yarn and those who can see signs that it is beginning, even on a small scale. The people who purchase yarn with only a vague idea of what they are going to do with it, for the "future project". How do you know what you have? I am fortunate enough to have a craft room so you would think that everything would be in there – wrong. For some reason it is also in my bedroom and in the room where the TV is and in a camphor chest in yet another room in the house. Would it fit in the craft room, probably, if I get in there and organize it, but that's another story.

Why, you ask, is it everywhere then? Well I do think I have a feeble excuse and you might relate. First the easy one, stuff in the camphor chest. That is there because I had all good intentions of crocheting all sorts of things for Christmas. I was all organized and I put everything I needed in the chest so it was easy for me to grab. Needless to say it is still there. Between a billion assignments I had to do and a decent case of 'tennis elbow' that I had been ignoring since September, no crocheting was done. Oh well – there will be another Christmas so it can stay there, but not according to the MOTH (man of the house).
The stuff in the TV room, that's also simple, several projects I was working on. Yes several, I have a short attention span it seems, also the yarn and patterns for things I want to make next even though I have 4 half finished ones at my feet. Remember the 'tennis elbow'? Well I have only just started crocheting small things in the last few weeks, after having to give it up mid October. Needless to say it is still in the TV room, however I am hoping in the next few weeks to get most of it into the yet unorganized craft room.
Our bedroom – well, that was the beginning of my organizing phase. Believe me, it is a really good system if it is employed by somebody other than me, somebody with the ability to complete a task. This is the theory, and in actual fact it worked however I never managed to complete the final step and put them back into the chaos room.
Pull out your patterns and go through what you actually want to do, don't worry if you have enough yarn or what yarn you want for it at this stage.
Photocopy or print off the picture and take note where you got it from, web address, name of book or where you saved it on the computer. Write that information on the picture.
Pull out your stash. (I did this in the bedroom, all over the bed and floor)
Organize it into separate piles.
Grab the patterns and put a pattern with the pile suitable for the project. Doesn't matter if the project takes 5 balls and you have 7. Just put it together.
Put each lot of yarn into a bag and tape the picture securely to the bag. If you like you can even write a note on it. (size medium for aunt Claire).
The funny odd balls you have left over you can deal with later. It will depend on how much you have left. Look out for "How to sort your yarns – method 2".
Put them away somewhere – this is where I fell apart, they are still in our bedroom.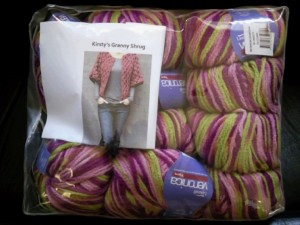 I did this about 18 months ago and up until the whole 'tennis elbow' thing it was excellent, other than the fact they are in the bedroom. Pick up a bag and off I went. You just need to complete the initial process and not leave them lying around.
If you like you could get really organized and write a list so you know what you have for future reference. Blue jumper for mum, red scarf for dad, afghan for cousins wedding…. you get the picture.
Good luck!