How to Transform Your Crochet Mistakes – Part 1
By Tameko Barnette –
6 Comments
I love the Autumn season. So naturally, I have my favorite seasonal colors of yarn all ready to make some nice scarves, hats, and decorative things for the home. The air is filled with the energy of harvest time. I am excited about getting started with my crochet projects. I grab a skein of multi-colored earth tone, medium worsted yarn and my favorite J-size crochet hook. I begin to crochet a hat from memory.
It comes out all wrong! I examine this so-called crochet hat wondering where I went wrong. Now, I don't attribute this mistake to the fact that I haven't crocheted a hat in two years. Oh no! I just dive right in head first from memory.

After several rows of the wrong stitches, I felt embarrassed, but that quickly turned into laughter. I realized I had just made a very tiny beanie hat for a very tiny person. Or, perhaps, it was something else. And it took me awhile to figure out what else it could possibly be.
Instead of unraveling this mistake, I decided to recycle this thing in some creative way. All I needed was a little imagination. The more I looked at it I started to see it as a bowl of some kind. I felt a smile on my face as I kept on looking at it. Yes, this is a bowl! So, I fastened it off and started to look around for what I could put in it and where I could place it.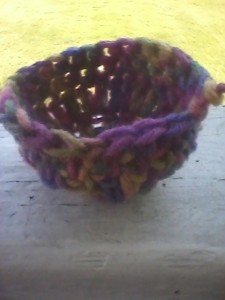 I realized that this little bowl could hold just about anything – candy, jewelry, a pillar candle, or some decorative pebbles and stones. I placed it on an end table to get a feel for what I could do with it. I decided to put a couple of my bottles of perfume oil and two of my favorite rings I love to wear.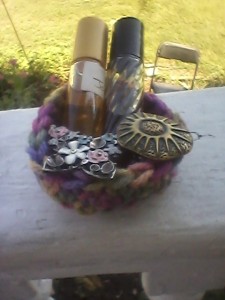 In addition, I realized I could make more of these little mistakes in the near future as gifts in a variety of colors as the holidays are fast approaching. I can fill them up with candy and wrap them in pretty gift tissue paper and tie them off with matching pieces of yarn.
All it takes is a little imagination! What started off as a crochet mistake can end up a crochet gem.
What other ideas can you think of for this little beanie hat-gone-wild? We'd love to hear from you. By the way, stay tuned for more of this series on transforming crochet mistakes.