Longwood Garden's Flowers
By Rachel Choi –
22 Comments
| | |
| --- | --- |
| This weekend I went to Longwood Gardens! If anyone is ever in the PA area I would definitely take a trip out there to see all the beautiful flowers in bloom. I was disappointed that I didn't get to see everything and that the pretty fountains weren't turned on. But then again I guess it leaves something to look forward to next time. There were so many flowers there that I have never seen before and now I'm inspired to crochet them! Look out here comes my crochet hook! The picture to the right is pretty goofy. It's of me and a bush trimmed into a dog, lol. There was a whole section of silly bushes like this! | |
Here are pictures of some of the flowers that I saw!!!
Most of the flowers were in the conservatory (a.k.a. the giant green house). It was laid out very elegantly. I could sit in there all day long and listen to the waterfall! It was so relaxing. Here are pictures of inside the conservatory.
There was even a cool bell tower!!!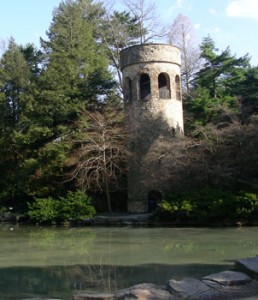 I was so excited when I looked in a tree and saw this giant piece of fruit! I'm not exactly sure what it is, maybe a grape fruit? There was also the very photogenic bird that I encountered on one of the trails. It was posing so I thought I have to take a picture of it!
I definitely had a great time! Now I'm ready to start crocheting those flowers! Look out Spring, here comes my crochet hook! Does anyone have a favorite flower?