Overlay Crochet – Not what I thought it was
By Corinne Munger –
24 Comments
| | |
| --- | --- |
| If you perform a search on Google for "Overlay Crochet", be prepared to see the most spectacular display of color on the internet! It looks like you are viewing individual patterns from a kaleidoscope. Just amazing! What was I expecting to see and how did I come across this? I was trying to incorporate a chain stitch on top of one of my projects and thought this was called overlay crochet – well it is, but isn't… | |
My interpretation of Overlay Crochet (the new definition) is a crocheted "medallion", whether it be round or square, with crocheted stitches on top of the medallion. You start with a colorful, concentric (not spiral) shape and then overlay stitches on to it to make your medallion. Here are some examples: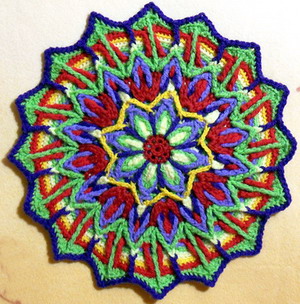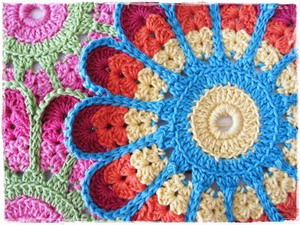 How Beautiful are these???
My research shows that this was introduced in the book Master Crochet Class (which I'll be owning real soon). Instructions are hard to come by, but I did find one (Norwegian) site that has such good step-by-step pictures, you can probably follow it (it's the bottom medallion in the above pictures). Click here to see it.
So I guess I was partially right in assuming that it was chain stitching over a crocheted piece, but I had no idea to what extent you could take this. I found this technique extended to pillows, purses and even jewelry. It's extravagant, intricate and I'm sure involved. But I believe that this would be worth every second spent learning it.
Does anyone out there do this? Do you have any tips? I think I'll give it a go on my own. Even if I just make the basic circle, I'm sure I can find a use for the explosive color somewhere!