Review: Stash2Go App
By Candace –
3 Comments
I'm trying to be better about logging my projects and stash on Ravelry, but the idea of having to transfer photos to my computer or use the site on a mobile device just doesn't do it for me. Plus, I tend to get sidetracked when browsing Ravelry from my laptop. But after searching through knitting and crochet apps, I found Stash2Go, and I think it and I will have a great relationship.
First: The cost. You can get the free "Lite" version on Android and iOS. The ads that keep it free are not at all intrusive. The full version is currently $5.99 for Apple devices, $6.99 for Android, and $6.41 for Amazon (Lite is not available from Amazon's store). The Lite version, which is what I have on my Android phone, is packed with essential features and little extras.
The first thing the app will ask you to do is login to Ravelry. The login button will take you to the site, where you will sign in then authorize access to your account for the app. It's a quick process, and once you're done you're free to use Rav features through the app.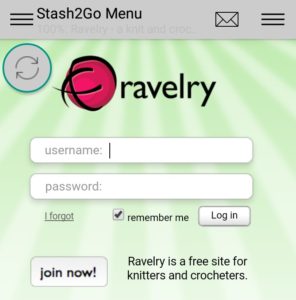 The interface is very basic and easy to use with clear labels for most of the functions.You can add, remove, and edit entries in your queue, stash, favorites, and projects just as you would on Rav; however, you cannot add needles and hooks through the app and must use Ravelry instead.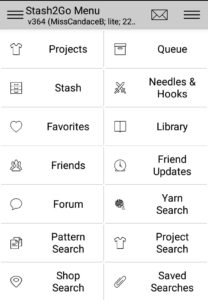 One of the biggest departures from Ravelry is the pattern search, which doesn't have all the filters you may be used to. Using the menu icon on the right, you see "Filter Patterns" And "Filter by Yarn Weight." The former corresponds too the "Category" "Craft" and "Availability" filters on Rav. Other search filters such as yardage (which I love when I can't figure out what to do with a yarn) are missing, but it appears that additional options are available in the paid version.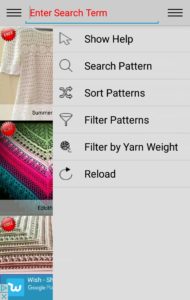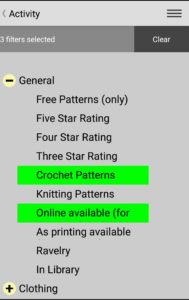 While most of the features are great, if you're a social butterfly on Ravelry, I suggest sticking to the desktop site for the forums. The layout isn't forum friendly, especially for long threads. Clicking on a thread does not take you to the last read post, and there is no way to mark a thread except as "read." Personally, I'm glad I won't be too tempted to read the forums when I should be updating my projects.
Some of the extras include row counters for your projects (you can set multiple counters–great for projects done in sections) and a pooling generator for planned pooling projects.

In all, this app is a great tool to keep your projects in order on the go. While there are similar apps out there, the Ravelry integration makes it an excellent choice for Ravelers.